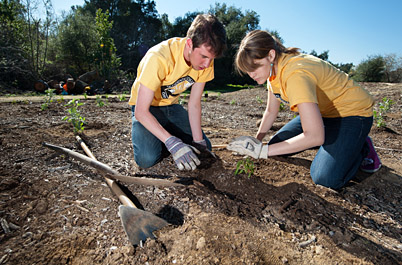 As they do every year, hundreds of Occidental students, faculty, alumni and staff will fan out to dozens of locations across Los Angeles on Saturday, Jan. 26 to honor the legacy of Martin Luther King, Jr. by performing volunteer work. 
Spearheaded by the Office of Community Engagement, this year's MLK Day of Service will include partnerships with the Downtown Women's Shelter, Eagle Rock High School, East Los Angeles YMCA, Hathaway Sycamores, Reach Our Community Kids, Inc . (The ROCK Community Center), Wildlife Waystation, Pasadena's Ronald McDonald House, and the Solano Canyon Community Garden.
Determined to participate in the national effort to give back to the community despite the fact that spring semester classes don't begin until January 22, Occidental schedules its day of service nearly two weeks after the national holiday, explained Ella Turenne, assistant dean for civic engagement.
"This is the beauty of the annual MLK Day of Service...we are honoring the great work of Dr. King by forming sustainable relationships with community organizations," Turenne said. "By introducing students to the work being done in the community, they can make connections with what they're learning in the classroom. This often turns into continued action as some return to the sites to serve as interns or volunteers."
The registration deadline is Monday, January 14. You can register here.
"Whether you've participated several times or never, you will be sure to enjoy this day of building community and fostering change in our city," Turenne said.