Submitted by kwall_admin on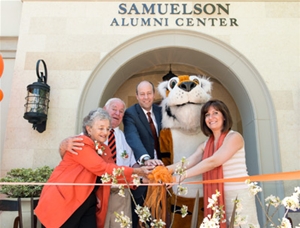 Occidental's new Samuelson Alumni Center -- the House that Jack Built -- was unveiled Friday with a gala ribbon-cutting ceremony that combined love, laughter, and warm tributes to Jack and Sally Samuelson.
The Center, which is the first permanent home for the Alumni Association since its organization in 1894, "symbolizes both the College's renewed commitment to its alumni and Jack and Sally's generous lifetime of service to Occidental," President Jonathan Veitch said.
"There is scarcely a building on campus that does not reflect Jack's vision as a builder and a trustee," Veitch continued. "Some have gone so far as to suggest that by sheer force of will Jack has replaced Myron Hunt as the principal shaper of the Oxy campus."
Veitch also paid tribute to the Omega Kappa Chapter of the Phi Gamma Delta Fraternity, or Fijis, whose chapter house stood on the site for almost 50 years. "It was the foresight and vision of the Fijis 40 years ago that resulted in the gift of this property to the College," Veitch said.
Alumni Board of Governors President Silva Zeneian '01 expressed thanks on behalf of Oxy's more than 21,000 living alumni "for this magnificent center ... It's a building that reflects all the love and care you poured into it."
"We built it to last for 100 years," with a variety of green features, including extra insulation, photovoltaic skylights, and LED lighting, said the 87-year-old Samuelson, who described his life-long ambition to be a builder, beginning with the treehouses he built with his brother.
"This is really a special day," said Samuelson, who was accompanied by his family, including his four great-grandchildren. "I thank you for the privilege of acting as the leader of this unique structure."
Designed by architect Craig Stoddard to echo the classic lines of Occidental's Myron Hunt buildings, the Samuelson Alumni Center will house the Alumni Relations offices together with a kitchen, an outdoor patio, and the Fiji Assembly Room on the first floor. Upstairs will be four guest rooms for use by distinguished visitors.
The 8,000-square-foot building with a red tile roof and white stucco walls will replace the current alumni office, a converted single-family home one block to the south that was intended as a temporary arrangement 12 years ago.