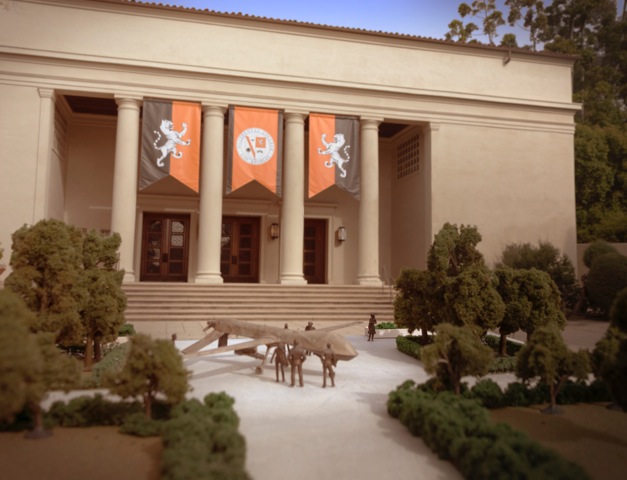 Occidental College will present "We Will Show You Fear in a Handful of Dust," a public sculpture created by Los Angeles-based artist collective Finishing School in collaboration with artists Nadia Afghani and Matt Fisher, beginning Friday, March 14. The sculpture will be on view at Occidental through May 9.
The centerpiece of "We Will Show You Fear in a Handful of Dust" is a full-scale model of a MQ-1 predator drone, and the public is invited to participate in its completion. Participants will use traditional methods to apply architectural grade mud to the surface of an industrially manufactured drone skeleton. In the dichotomy between the drone's form and its surface, the sculpture is intended to open a discussion about technology and foreign policy while inviting multiple propositions about cultural legacies and possible resistances in the era of global surveillance and warfare.
With this project, Finishing School continues to explore its ability to make unwieldy political issues tangibly personal. For more than 10 years, the collective has employed various strategies to create environments in which a viewer/participant voluntarily enters into a relationship (usually an uncomfortable one) with an idea that has previously been regarded as an abstraction.  At first glance the projects can appear to be light-hearted, as the collective generally uses an element of humor to disarm its audiences.  Topics spotlighted by their work have ranged from corporate and government impacts on individual freedoms, to interpersonal hierarchies, and now to our relationship with the fastest-growing new technology wielded for civilian and military use.
"We Will Show You Fear in a Handful of Dust" continues the first year of Occidental's Wanlass Artist in Residence program.  The sculpture will be sited on Thorne Plaza, located in the center of the College. The public is invited to participate in the application of mud to the sculpture from Friday, March 14, through Sunday, March 16 (for exact times, please check oxy.edu/oxyarts). A reception for the project will be held on Wednesday, March 19, from 4-8 p.m. Occidental College is located at 1600 Campus Road in the Eagle Rock community of Los Angeles.
Join the Facebook group to participate or learn more about the installation. The project essay by Matt Fisher is available for download here. 
About the Artists
Established in 2001, Finishing School is a socially engaged artist collective that explores an expansive range of subject and media territories. The Los Angeles-based collective has five members who represent a broad range of skills. Finishing School produces interdisciplinary actions, installations, workshops, design, studio art, performance and new media. They have presented work throughout the United States and internationally.
Matt Fisher is an artist and writer living in Oakland. His studio practice interrogates intersections of analytical abstraction and identity politics. Trained in Southern California, he moved to New York just before 9/11 and spent a decade there before relocating to the Bay Area in 2011. He writes regularly on contemporary art for the San Francisco Bay Guardian and ARTnews.
Nadia Afghani is a Los Angeles-based conceptual artist whose work investigates the parameters of subject versus object, the mechanics of language and the ambiguity of meaning and understanding. She received a B.A. in creative writing from Cal State Long Beach and a MFA in studio for interrelated media (SIM) from Massachusetts College of Art and Design.
About OxyArts
Occidental's arts initiative, OxyArts, provides the College with a recently launched visual arts presenting program.  A key initiative of the College's Strategic Plan, OxyArts promotes exhibition and programming practices that are vital to the College's long-term vision for the arts, with particular emphasis on a robust collaboration with the city of Los Angeles. The program has been designed to engage the campus with a contemporary art dialogue via its Weingart Gallery, campuswide interventionist art projects and work developed over time by artists in residence. OxyArts aims to serve as an anchor for the Eagle Rock/Highland Park art scene, participate actively in Los Angeles' art community and cultivate a deeper understanding and appreciation of contemporary art throughout the Occidental community.