Submitted by kwall_admin on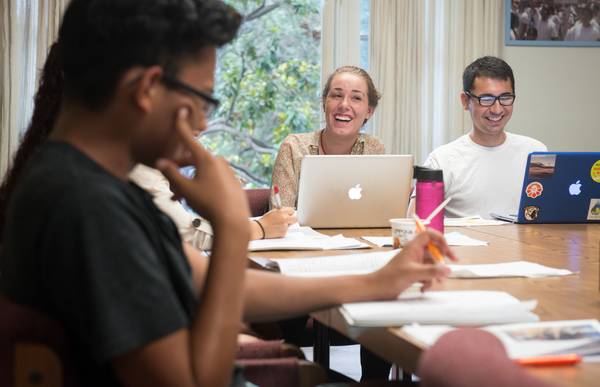 Fifty Occidental students spent the summer engaging with mentors in the workplace as part of the College's ever-expanding summer internship program. They were exposed to areas of future employment ranging from politics to law to theater to coffee-roasting.
That number includes eight who participated in the urban and environmental policy department's affordable housing and community development summer internship program, now in its 11th year. The students worked full-time for 10 weeks for non-profit organizations in Los Angeles including the Alliance of Californians for Community Empowerment
, L.A. Neighborhood Housing Services, the Esperanza Community Housing Corporation
and the Southern California Association for Non-Profit Housing.
Internship program director Peter Dreier, E.P. Clapp Distinguished Professor of Politics and chair of the urban and environmental policy department, said the students get hands-on experience in public policy advocacy, counseling, organizing, and housing development; an insider's view on how non-profit community organizations work; and the opportunity to explore a possible career.
"The program is a win-win-win situation--for the students, for the community groups and constituencies they are working for, and for the College," he said. "It's a 'win' for me, too. I enjoy mentoring the students, watching the transformations they go through, following them through their careers at Oxy and afterwards, and knowing that for many of them, the summer internship was a life-changing experience."
The program also has an academic component: Student interns must complete assigned readings, keep journals of their experience, write a final paper, and attend weekly on-campus seminars conducted by Dreier.
Danielle Raskin '17 of New York City served as a community organizing intern at the Los Angeles Alliance for a New Economy working on the Raise the Wage campaign, which sought to raise the minimum wage in greater Los Angeles to $15 an hour. The campaign was successful, with both the city and the county of Los Angeles passing ordinances to implement a $15 minimum wage by 2020.
"It was very powerful and inspiring to see real policy changes occur at the local level," Raskin said. "As someone who is passionate about social justice and organizing, participating firsthand in what it takes to create real positive change has solidified my desire to pursue a career in community organizing and local politics post-graduation. My internship allowed me to experience the issues and topics I have been learning about as an urban and environmental policy major in real life."
Including this year's group, 64 students have participated in the affordable housing summer program since it began in 2004.
An additional 39 students were chosen by Occidental's Career Development Center from an applicant pool of 130 to participate in the highly competitive InternLA and InternPDX programs. These students worked full-time for employers in Los Angeles and Portland, Ore. for 10 weeks including Brave New Films, the Children's Law Center, Response Genetics, Sustainable Harvest, Los Angeles Mayor Eric Garcetti's office, City of Hope, the Oregon Department of Human Services, A Noise Within, Food Forward, the Grammy Museum, the Consulate General of Mexico's L.A. office, the Los Angeles Zoo, Zocalo Public Square, KPCC and Planned Parenthood.
InternLA interns also benefit from weekly career enhancement and training in on-campus Impact sessions throughout the summer.
"To watch the political process happen from within the mayor's office was enlightening, but I think I got a lot more out of just being able to reflect on my strengths and weaknesses in a setting that was aligned with my career path," said Daniel Stigall '16, a politics major from San Diego. "The office had more interns than usual and most of us got pretty close, so there was also an element of seeing what peer relationships would be like after joining the workforce, rather than in an academic setting."