Submitted by kwall_admin on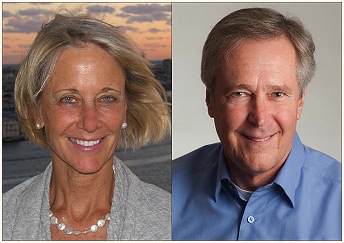 James and Deborah Fallows will inaugurate the Wellington K. K. Chan Distinguished Visitors in Residence Program in Chinese Studies at Occidental College this spring.
James Fallows, author and Atlantic Monthly correspondent, and wife Deborah Fallows, a linguist and author, will be on campus from March 25 to April 2 for a series of classroom visits, open office hours and an April 2 public lecture in Mosher Hall at 4:30 p.m. titled "Living in the World That China Makes." The Fallows' visit will be a weeklong opportunity for students and faculty to engage in discussions about Chinese politics, language, technology and global relations.
James Fallows has reported from around the world for more than 30 years, including most recently three years in China. He has won a National Book Award and a National Magazine Award, plus an Emmy. He is a regular commentator on National Public Radio, has appeared frequently on TV, from the Charlie Rose Show to the Colbert Report, and was a visiting professor at the University of Sydney in Australia.
His new book, China Airborne, was released by Pantheon in May 2012. Other recent books include Postcards From Tomorrow Square: Reports From China; Breaking the News: How the Media Undermine American Democracy; and Blind Into Baghdad: America's War in Iraq.
Deborah Fallows has written extensively on language, education, families and work, China and travel for publications including The Atlantic, Slate and National Geographic.  She has just completed an international tour for her latest book, Dreaming in Chinese: Mandarin Lessons in Life, Love, and Language, which is based on her three-year experience living and working in China.  She holds a Ph.D. in linguistics. 
The Distinguished Visitors Residency was established to honor Professor of History Emeritus Wellington Chan, an internationally known scholar who taught at Occidental for almost 40 years. The program will bring distinguished scholars or public intellectuals with expertise in Chinese studies to campus to participate in a number of China-centered events and activities.
Occidental has a long tradition of teaching and study of Asian cultures that dates to 1916.