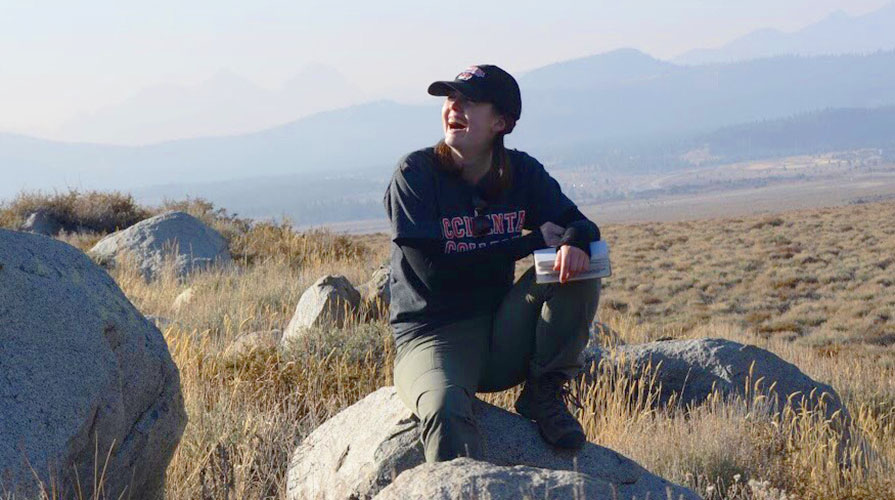 Continuing a 30-year Occidental College tradition, Jackie Dall '21 has been named a 2020 Goldwater Scholar. Dall is the 40th Oxy student to win the country's most prestigious undergraduate scholarship in the sciences since the award was established in 1989.
Dall is among the 396 recipients of this year's Goldwater scholarships, presented to sophomores and juniors who plan to pursue careers in mathematics, the natural sciences or engineering. The award covers up to $7,500 annually for undergraduate tuition, fees, books and room and board.
Just 16 percent of the 2020 Goldwaters went to students enrolled in liberal arts colleges. Most awards were made to students at large research universities.
"I'm incredibly honored and humbled to be selected as a Goldwater scholar, and I think it's a testament to the Geology Department's emphasis on mentorship-based research," Dall says. "Working with Professor [Christopher] Oze has been a highlight of my time at Oxy, because it's a chance to be challenged outside the classroom. When I'm stuck on a problem, I know Professor Oze is there to help me, and having that support system is encouraging as I work toward a career in geology."
"The Goldwater award requires a significant amount of effort and commitment from students, and we are excited and proud that Jackie's hard work has been recognized," said Jeff Cannon '07, assistant professor of chemistry and a Goldwater winner himself who with Biology Professor Gary Martin and Jennifer Locke, director of national and international fellowships, advised this year's applicants.
"Successful applications for these awards require students to work closely with a faculty mentor, and we think our success this year is a reflection of Oxy's ability to foster those relationships," Cannon said.
Dall, a geology major and art history minor from La Crescenta, plans to pursue a Ph.D. in geochemistry or petrology and hopes to eventually become a curator of a geological collection at a museum. Her faculty mentors are Oze and Professor of Art and Art History Eric Frank.