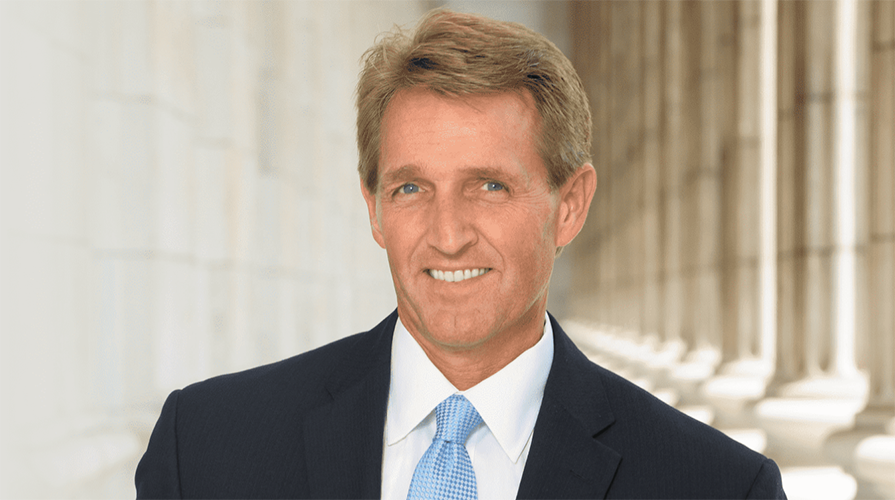 Former U.S. Senator Jeff Flake of Arizona will discuss the current state of conservatism and partisan politics with former Arizona Attorney General Grant Woods '76 on February 5 as Occidental College's 2020 Jack Kemp '57 Distinguished Lecturer.
This event is free and open to the public. Registration required.
Flake, author of the New York Times bestseller Conscience of a Conservative: A Rejection of Destructive Politics and a Return to Principle, will speak with Woods in Occidental's Thorne Hall at 6 p.m.
A Republican, Flake represented Arizona in the House of Representatives from 2001 to 2013 and in the U.S. Senate from 2013 to 2019. Currently a resident fellow at Harvard University and a contributor to CBS News, he is widely known for his outspoken stand for principle and civility in an era of hyper-partisanship.
While in the Senate, Flake chaired the Subcommittee on Privacy, Technology & the Law, which sits at the intersection of innovation and regulation. He also chaired the Africa Subcommittee of the Foreign Relations Committee, where he passed landmark legislation on wildlife trafficking and democratic governance. Flake was one of the bipartisan "Gang of Eight" senators that pushed an immigration reform bill through the Senate in 2013.
Flake earned a degree in international relations and a master's in political science from Brigham Young University.
One of Arizona's best-known attorneys, Grant Woods '76 is a partner at the law firm of Gallagher and Kennedy. Twice elected Arizona attorney general, Woods served as the first Congressional chief of staff for the late John McCain. A graduate of Arizona State University College of Law, Woods is the founder of the Mesa Boys & Girls Club, the Mesa Education Foundation and the Mesa Arts Academy, one of Arizona's first successful charter schools. The 2000 Occidental College Alumnus of the Year currently serves as an Occidental trustee.
The Jack Kemp '57 Distinguished Lecture Series, made possible by the Jack Kemp '57 Scholars Endowment, strives to engage Occidental students and faculty in dialogue on important issues of public policy such as the political economy, economic growth in the context of a market system, communitarian values, and bipartisan relations.
Previous Kemp Distinguished Lecturers include Tal Becker, one of Israel's top peace negotiators and senior fellow at the Shalom Hartman Institute in Jerusalem; former U.S. Secretary of State Condoleezza Rice; and journalist, political commentator and Kemp biographer Morton Kondracke.