Submitted by kwall_admin on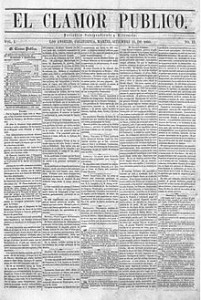 The rich, diverse past of Southern California print journalism and its uncertain future in the digital age will be examined by scholars and working journalists at an April 16 conference mounted by the Historical Society of Southern California.
Journalists Jim Newton, Bill Boyarsky and Kevin Roderick – who collectively have more than 80 years of experience as reporters, editors, and columnists at the Los Angeles Times -- will join such distinguished scholars as David Hayes-Bautista (UCLA), Felix Gutierrez (USC) and Merry Ovnick (Cal State Northridge) at the day-long conference at Occidental College.
"Print journalism – in English, in Spanish, and in the hands of courageous African-American editors – has played a profound role in shaping Southern California," says Kenneth Marcus, professor of history at the University of La Verne and HSSC president. "Yet the rise of the Internet has raised fundamental questions about the future of daily journalism. These are issues we will address in what we know will be a lively and illuminating program."
The day's presentations will include:
An exploration of 19th-century English- and Spanish-language newspaper journalism in Los Angeles by Hayes-Bautista, director of the UCLA Center for the Study of Latino Health and Culture; Gutiérrez, professor of journalism and communications at the USC Annenberg School; and Paul Bryan Gray, biographer of Francisco Ramirez, editor of California's first Spanish-language newspaper.
An examination of the newspaper career of Edward A. Dickson, one-time owner-editor of the Los Angeles Express, and his impact on local and state progressive politics by Ovnick, professor of history at Cal State Northridge and editor of The Southern California Quarterly.
An assessment of the sometimes acrimonious relationship between two pioneering African-American newspaper editors, Charlotta Bass and Loren Miller, by independent scholar and public radio documentarian Amina Hassan.
The evolution of Southern California print journalism and the slow decline in the number of daily newspapers from 1920-1962 by Larry Harnisch, Los Angeles Times copy editor and independent scholar.
An anecdotal history of the last 50 years of the Los Angeles Times by Newton, Boyarsky and Roderick.
A look into the future of local print journalism by Newton.
To register for the conference, held in Choi Auditorium in Occidental's Johnson Hall, go to http://hssc2016conference.eventbrite.com. Cost for HSSC members is $40; non-members $50; graduate students with ID $10; and undergraduates with ID free. Lunch is available for an additional $15. Registration will begin at 8:30 a.m.; the program will begin at 9. A reception hosted by Occidental's Institute for the Study of Los Angeles will follow at 3:45 p.m. For more information, contact the HSSC at hssc@thehssc.org or (323) 222-0546.