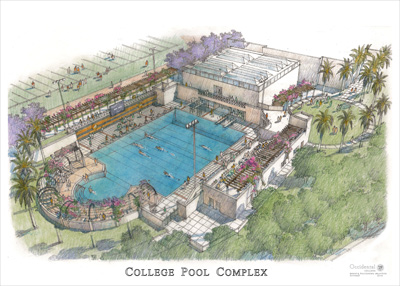 Construction of a long-anticipated new competition pool and two additional tennis courts that together are expected to have a transformative effect on Occidental College athletics has been scheduled to begin in June.
The new $17.5 million Ranier De Mandel Aquatic Center will move student swimmers, divers, and water polo players out of 87-year-old Taylor Pool and into a modern 25-yard by 34-meter pool with a diving well.  When completed, the new pool will have an immediate impact: swimming practice will no longer have to be held in shifts, water polo goalies will no longer have to take turns standing in the shallow end, and divers will be able to practice and compete on campus for the first time in decades.
Expansion of the McKinnon Family Tennis Center with an additional two courts will make it possible for Oxy to meet Southern California Intercollegiate Athletic Conference and NCAA standards and host conference matches at home, rather than at rented off-campus facilities.
"This has been a long time coming," says Jaime Hoffman, associate vice president and director of athletics. "We've been talking about bringing our athletes home–it's been a rare occasion when we are able to have our tennis, swimming and diving, and water polo teams all compete here on campus. Now that's going to change in a big way."
Designed by the Pasadena-based firm of Moule and Polyzoides to harmonize with Occidental's historic Myron Hunt-designed campus, the De Mandel Aquatic Center will be built on the west side of campus between Kemp Stadium and Campus Road on what is now a parking lot. The new tennis courts will be built adjacent to the existing McKinnon Tennis Center courts on the north side of Kemp Stadium.
Construction is expected to take about 18 months.
Funding for the project has come from hundreds of Oxy alumni, parents and friends, including major gifts from the late Ranier De Mandel '25, who first pledged his support for the project in 1995; trustee emeritus Ian McKinnon '89 and his wife Sonnet; and trustee Steve Robinson '77.
The new outdoor pool will provide 15 practice lanes and eight competitive lanes for swimmers; a 34-meter, all-deep-water venue for water polo; and a 13.3 foot-deep diving well with two 1-meter and two 3-meter diving boards for divers. It also includes an attached recreational pool for general use and a 316-seat grandstand.
Current plans call for Taylor Pool, designed by Hunt and built in 1930, to be filled in after the new pool is completed. The arcaded E.S. Field Building which surrounds it will be preserved, and both will become an multipurpose outdoor space.
The two new tennis courts fronting on Baer Road will be built adjacent to the McKinnon Center's existing four courts, with new stadium seating on Court 1. Both the tennis courts and the aquatic center will be lighted with energy-efficient LED fixtures for night use and will be fully accessible.
Unifying the entire project will be a landscaping plan by award-winning Van Atta Associates of Santa Barbara that will use African tulip, olive and palm trees and other water-wise plantings.
Tennis and swimming are among the oldest sports at Occidental, one of the founders of intercollegiate athletics in Southern California. A quarter of Oxy students currently participate in NCAA Division III sports, and almost half participate at some level, including club and intermural sports.
Both swimming and tennis date back to 1920 as SCIAC sports at Occidental, with water polo dating back to 1954. Oxy scholar-athletes include two-time Olympic diving gold medalist Sammy Lee '43; Pat (Henry) Yeomans '38, national girls tennis singles champion in 1935; Mark Worthen '77, NCAA Division III national champion in the 50 free; Jean Marie Sanders '84, two-time national tennis singles champion; and Jonathan Dohring '08, 2007 NCAA Division III champion in 1- and 3-meter diving.