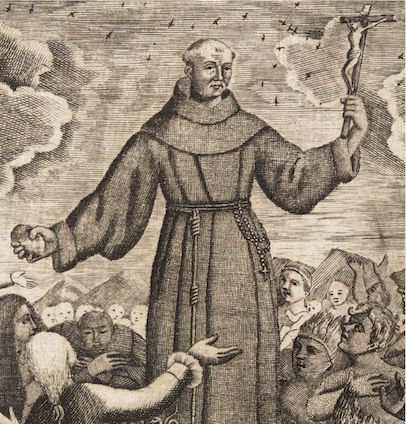 Pope Francis' controversial decision to canonize Father Junipero Serra, the 18th-century Franciscan priest who founded California's mission system, will be among the issues explored at the Historical Society of Southern California's annual conference April 4 at Occidental College.
"Historian Steve Hackel's recent book on the life of Junipero Serra prompted us not only to consider the life and work of this central figure in California history but to evaluate the Pope's decision to move him toward sainthood," said HSSC President Kenneth Marcus, professor of history at the University of La Verne.
"In considering some key issues regarding religious and cultural beliefs and practices in the colonial southwest, the conference also will explore musical practices in the missions of California and Mexico, and will ask to what extent Indians themselves were involved in the creation of mission music," Marcus said.
Robert Senkewicz, professor of history at Santa Clara University, will deliver the George A.V. Dunning Lecture as the keynote speaker, "'Nobody, Young or Old, Allowed Themselves to Be Seen by Us': Religious and Culturtal Interaction in the Establishment of Spanish Alta California."
Also presenting will be Andy Galvan, curator of the Mission Dolores in San Francisco; Vincent Medina, assistant curator of the Mission Dolores; Jim Sandos, Farquhar Professor of the American Southwest at the University of Redlands; independent scholar Tish Sandos; Craig Russell, professor of music at Cal Poly San Luis Obispo; and John Koegel, professor of music at Cal State Fullerton. Hackel, professor of history at UC Riverside, and Marcus will moderate the panels.
The conference will also feature presentation of the HSSC's annual publication awards, including the Donald H. Pflueger Local History Award for outstanding publication on Los Angeles and Southern California local history; the Neuerburg Award for the best book on pre-Gold Rush California; and the Ridge Award for the best book on post-Hispanic California.
HSSC strongly recommends advance registration for the conference, which will take place in Choi Auditorium in Johnson Hall on the Occidental campus. Doors will open at 8:30 a.m.; the program will begin at 9 a.m. The conference is free for students with ID; $25 for HSSC members and Oxy faculty and staff; and $35 for the general public. Lunch is $15 for everyone; a vegetarian option is available. 
A map of the Occidental campus and directions to the college can be found here.