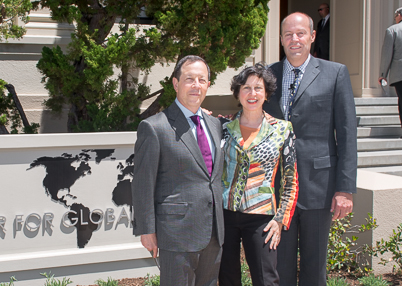 A $5.5 million pledge from Elizabeth and Bill Kahane '70 of New York will endow Occidental College's United Nations program, which each year gives up to 16 undergraduates the opportunity to combine a full-time internship with academic study.
The newly named William and Elizabeth Kahane United Nations Program has been the centerpiece of the College's Chevalier Diplomacy and World Affairs Program since the U.N. program's founding in 1987.
"Bill and Elizabeth's gift will not only guarantee the future of the U.N. program, but will make it possible for more students to participate in what many have called the highlight of their college experience," said Occidental President Jonathan Veitch. "Their generosity will play a major role in helping our students truly become citizens of the world."
"We could not be more pleased to support this very important program," explained Bill Kahane. "The mission of the U.N. is to act as a peacekeeper, reaffirm human rights, promote justice, and to encourage social progress and better standards of living. I can think of no higher calling for our students then to be offered the opportunity to be immersed in Occidental College's United Nations program."
The Kahanes' pledge, together with gifts for the John Parke Young Initiative on the Global Economy and the McKinnon Center for Global Affairs, means that Occidental has raised $25 million in gifts and pledges in support of the college's strategic Global Culture initiative.
The Kahane U.N. program makes it possible for Occidental students to live in New York during the fall semester while the General Assembly is in session, take two courses on international issues and an independent study seminar, while interning full time at a U.N.-related agency. It is one of the few initiatives to offer a residential, internship/academic program in New York to undergraduates. The program is open to all Occidental students.
Not only will the Kahane pledge provide a permanent endowment for the U.N. program, it will increase student scholarship support; give students greater access to cultural offerings in New York; support student travel to Washington, D.C.; and make it possible to bring U.N. programming back to the Occidental campus.
The almost 400 alumni of the Kahane U.N. program include foreign service officers; White House advisors; officials with the U.S. departments of Defense, Commerce, Justice, and Energy; staff members with NGOs in Asia, Africa, and Europe dealing with such issues as refugees, human rights, and HIV/AIDS; and business executives working around the world.
With a Stanford MBA and a law degree from UCLA, Bill Kahane has been an active real estate investor and advisor, nationally and internationally, in the public and private markets for close to 40 years. He is a co-founder of AR Capital and currently serves as chief executive officer of RCS Capital. His companies currently manage over $40 billion of real estate and related investments.
Elizabeth Wright Kahane is a career New Yorker. After retiring from 20 years in the real estate business, she now pursues fine art photography, a passion she has maintained from youth.  She is a board member of AHRC, working diligently to enhance the lives of children and families in New York City, and is an active member of the Central Park Conservancy.