Submitted by kwall_admin on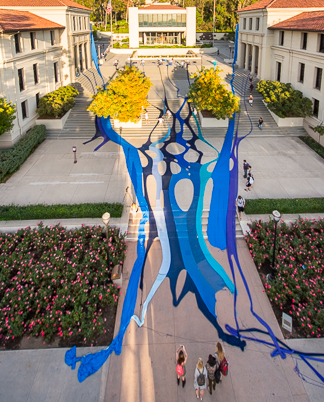 Hundreds of yards of knitting in shades of blue and purple spilled down the steps between Johnson and Fowler halls on the Occidental College campus Wednesday as textile artist Liz Collins' Knitting Nation project made its West Coast debut.
Collins, Occidental's first Wanlass Artist-in-Residence, and two shifts of her white-clad troupe of artisan-knitters –including 11 Occidental art students – operated 10 portable knitting machines for seven hours straight to create Knitting Nation Phase 12: H2O, the latest in her eight-year-old series of site-specific, carefully choreographed performances.
The inspiration for the piece was Occidental's yearlong campus-wide initiative focused on the theme of water and power, organized in connection with the 100th anniversary of the opening of the California Aqueduct. "I saw this site and a cascade of fabric coming down the steps, like water flowing down the steps, just naturally suggested itself," said Collins.
Not only did Wednesday's event mark the first time Knitting Nation has been performed on the West Coast, but it also was the first time it has been formally incorporated into a college course – Prof. Mary Beth Heffernan's "Advanced Projects in Interdisciplinary Arts."
The fabric produced from 450 pounds of yarn will stay at Occidental, where art students will submit proposals for its use in their own projects, Heffernan said.
A steady stream of students and faculty passing to and from class stopped and admired the work throughout the day, although sometimes uncertain as to how they should interact with it. "That's OK, you're can walk on it – it's already on the ground," Collins cheerfully told one student who was carefully trying not to step on the brightly colored fabric.
Knitting Nation performances are as much about showing knitters at work as they are about the product of their work – a reflection of Collins' desire to comment on how humans interact with machines, global manufacturing, trade and labor, and fashion.
In addition to Wednesday's performance, Collins created a new installation, "Distancer-Pursuer," in Occidental's Mullin Gallery, and engaged in a Nov. 4 public dialogue with noted art historian Julia Bryan-Wilson. Originally a rising fashion designer in New York, a teaching job at the Rhode Island School of Design led Collins to shift her focus to the artistic and conceptual side of textile production.
Collins is the first Wanlass Artist-in-Residence at Occidental, funded by a recent grant from the Kathryn Caine Wanlass Charitable Foundation. Her residency kicks off the college's newly created arts initiative, OxyArts. A key intitiative of the college's strategic plan, OxyArts promotes exhibition and visual art programming that promotes active participation in the Los Angeles art community.