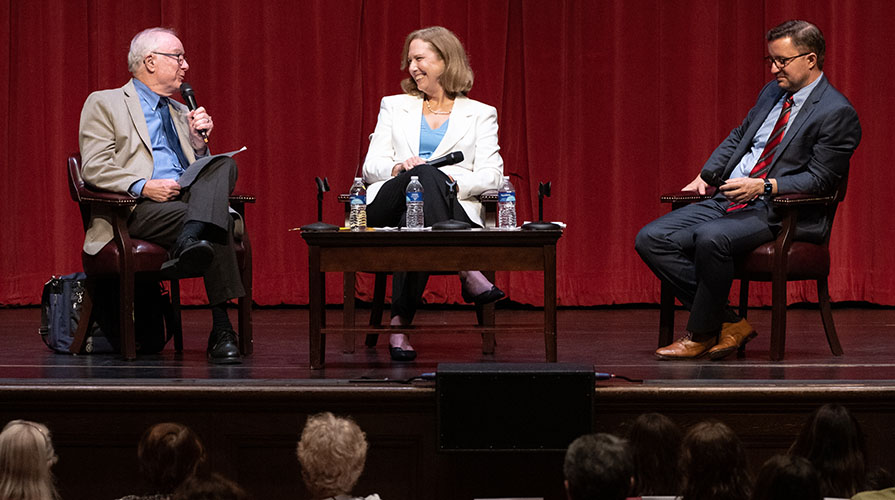 Social media has had a huge impact on international diplomacy over the past decade--a reality that has played out most dramatically in Ukraine, career diplomat Kristina Kvien '87 P'20 told an Occidental College audience October 21.
"There has always been disinformation, but in a world that's moving so quickly, where people get most of their news from social media, it opens the aperture for disinformation, misinformation, that we have seen just flood the zone," Kvien--the top U.S. diplomat in Ukraine when the Russians invaded in February--told a Thorne Hall audience as the latest participant in the College's Obama Scholars Speakers Series.
"In the Ukraine, of course, that was a huge issue and continues to be one," she continued. "I think we as the State Department, and as the U.S. government in general, have become better at countering that, and we've done quite a good job--I'll pat ourselves on the back--in Ukraine in helping to counter any disinformation that Russia put out there."
Social media will continue to be a top priority as new platforms emerge, she added. "We have to be on top of it, we have to figure out to use it, how to harness it for our own messaging while still guarding against disinformation."
Kvien, a 30-year Foreign Service veteran, served in Ukraine from January 2020 through May of this year, most recently as charge d'affaires. "I can say that the almost three years I was there were by far the more challenging and eventful of my career," she said.
Rather than delivering formal remarks, Kvien responded to questions from her undergraduate mentor, Larry Caldwell, Louise Gamble Professor in Political Science emeritus, and Igor Logvinenko, associate professor of diplomacy and world affairs.
"There is no satisfaction in teaching greater than to see the achievement of your students," Caldwell, a veteran of 47 years at Oxy, said at the beginning of the program. "I am extremely proud to be on the platform with a woman who has had one of the most stellar careers of anyone I've ever known at the U.S. State Department."
In turn, Kvien--part of a four-generation Oxy family--praised the education she received as a political science major, crediting the multiple classes she took with Caldwell as sparking her interest in the Foreign Service as well as the Soviet Union and eastern Europe.
 "I'm a huge Oxy booster," she said. "One of the reasons is because Oxy taught me a lot of the skills that I needed to succeed at the State Department. ... First and foremost, if I hadn't been in a liberal arts environment like Oxy, where you have a very broad education, I wouldn't have passed the Foreign Service exam."
She also credited the small size and intimate nature of her classes, where students and faculty discussed the subject at hand, rather than students passively taking notes. "That really prepares you to hold your own when you leave university and go into a position, particularly one where you are expected to articulate your views," she said. "Finally, the real focus on writing and analysis is something that in the State Department, if you're in a policy-focused area, that's your bread and butter. ... All of those skills were extremely important and learned here at Oxy."
Kvien is currently waiting Senate approval of her new appointment as U.S. ambassador to Armenia. She will become the third Oxy alumnus currently serving as an ambassador, joining Denise (Campbell) Bauer '86, ambassador to France and Monaco, and Michaek Gonzales '96, ambassador to Zambia.
The speakers series is part of the Obama Scholars Program, launched in 2017 to empower exceptional students committed to the public good as it honors and perpetuates the principles President Barack Obama '83 has advanced throughout his life. Occidental welcomed seven Obama Scholars, its largest class ever, this fall.