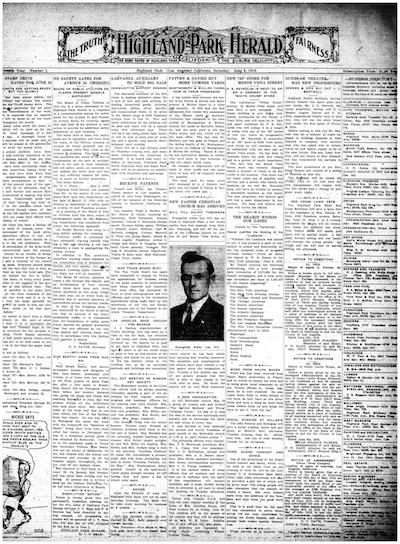 On March 1, an innovative partnership between Occidental College and two local historical societies will celebrate the successful launch of a project to preserve something that is black and white and eventually will be read all over.
It's no joke: thanks to a $35,000 grant from the John Randolph Haynes and Dora Haynes Foundation, the Northeast Los Angeles Newspapers Project has digitized 6,200 pages of 20th-century community newspapers –- a unique historic resource that will now be available to the public.
From a statistical standpoint, it's a modest start:  those 6,200 pages represent about 2 percent of the approximately 341,000 pages published by 29 newspapers in Eagle Rock, Highland Park, Mt. Washington, El Sereno and surrounding communities over the past century.
But the planning, organizing, cataloging and scanning carried out over the last year represent a major step forward in the joint effort between Occidental, the Eagle Rock Valley Historical Society and the Highland Park Heritage Trust not only to preserve local newspapers but make them accessible to an international audience.
"These newspapers document more than a century of everyday life in the historic and diverse communities of Northeast Los Angeles," said Dale Stieber, Occidental's special collections librarian and college archivist. "Our purpose is to make an important contribution to the historic identity of our communities and make this one-of-a-kind resource more accessible."
The celebration will be held from 2 to 4 p.m. on Saturday, March 1 in the Dumke Commons, Swan Hall, on the Occidental campus.
Over the years, the Society and the Trust have played a leading role in preserving backfiles of newspapers such as the Eagle Rock Sentinel and Highland Park News Herald. Joined by the College in 2010, the partners have gathered, housed and inventoried more than two dozen newspaper titles in 182 bound volumes, 333 reels of microfilm and 29 boxes of loose copies.
Six of those titles had never been cataloged before anywhere; all of them now are listed in WorldCat, the international online library catalog.
In consultation with Brian Geiger, assistant director of the Center for Bibliographical Studies at UC Riverside, a representative number of issues in the public domain from 10 newspapers –- the Belvedere Citizen, Eagle Rock Advertiser, Eagle Rock Sentinel, Eastside Journal, El Sereno Star, Highland Park Herald, Highland Park News-Herald & Journal, Highland Park Post-Dispatch, South Pasadena Journal, and The Occidental –- were scanned as part of a pilot project.
Those issues will eventually be available online through the California Digital Newspaper Collection. (In the meantime, the collection is available to the public by appointment with Occidental College Special Collections.)
The Haynes grant also made it possible for library staff, Society and Trust members, and community residents to develop an organizational structure that will allow them to continue to raise additional funds to sustain the repository and digitization program.
"There is still much more to be done," said Society President Eric Warren. "We're just getting started." Other members of the project's leadership team in addition to Warren and Stieber are Robert Kieft, Occidental College librarian; Trust President Antonio Castillo; Carmela Gomes, a Trust board member; Frank Parrello, a Society board member; and Anne Mar, assistant College archivist.