Submitted by kwall_admin on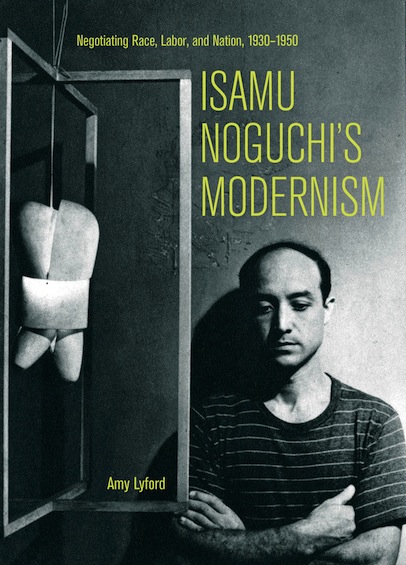 Occidental College's Amy Lyford, winner of the Smithsonian American Art Museum's 2015 Charles C. Eldredge Prize for distinguished scholarship, will deliver the museum's annual Eldredge Prize lecture on sculptor Isamu Noguchi on January 27.
Lyford, professor of art history and associate dean of arts and humanities, will present her 4 p.m. EST talk, titled "Isamu Noguchi, Asian America, and Artistic Identity in Postwar New York," at the museum in Washington, D.C.  A live webcast will be available.
Jurors for the prize called Lyford's Isamu Noguchi's Modernism: Negotiating Race, Labor, and Nation, 1930-1950 (University of California Press, 2013) "beautifully written … This pioneering book will change how we think about Noguchi, modernist sculpture and American art."
The book is a deeply researched, interdisciplinary examination of Noguchi's early career. Lyford examines Noguchi's land-based monuments and public projects, both speculative and realized, drawing on a wide range of archival resources, from images of the artist in his studio to never-before seen documents from his FBI file, to illuminate his artistic practice and his activism.
"Tracing the mobility of Noguchi and his work—from institutions like the Museum of Modern Art to an internment camp for Japanese Americans where he voluntarily lived for over a year during the war—Lyford tells an entirely new story about how art travels, and how it might be marked as simultaneously 'foreign' and also 'American,'" the jurors wrote.
"Her careful account of Noguchi's projects in these decades foregrounds the artist's persistent concerns about labor and contributes meaningfully to debates about the role of the artist within a wider economic landscape. Beautifully written and with urgently articulated stakes with regards to racism and citizenship, Lyford's book draws from and contributes to an interdisciplinary set of concerns within Asian American studies, critical race theory and art history … This pioneering book will change how we think about Noguchi, modernist sculpture and American art."
Lyford, who teaches courses in modern and contemporary European and American art and architectural history, also is the author of Surrealist Masculinities: Gender Anxiety and the Aesthetics of Post-World War I Reconstruction in France (2007). She has received fellowships from the National Endowment for the Humanities, the Fulbright Foundation, the Mellon Foundation, the Kress Foundation and the Social Science Research Council. She holds a bachelor's degree from Pomona College, a master's degree from Boston University and a doctorate from UC Berkeley.
The Eldredge Prize, named in honor of the former director of the museum (1982-1988), is sponsored by the American Art Forum, a patrons' support organization. This annual award, initiated in 1989, recognizes originality and thoroughness of research, excellence of writing and clarity of method.