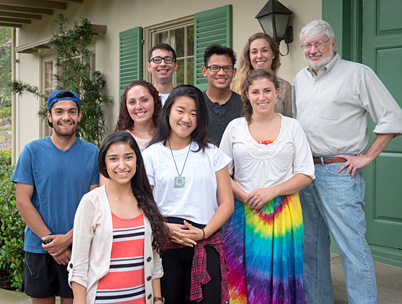 This summer, eight Occidental College students are working to help low-income families in Los Angeles find and keep affordable housing and community groups improve low-income neighborhoods through the College's community development and affordable housing internship program.
The eight were selected from pool of students who applied for the full-time, 10-week program. Internship program director Peter Dreier, E.P. Clapp Distinguished Professor of Politics and chair of the urban & environmental policy department, said the students get hands-on experience in public policy advocacy, counseling, organizing, and housing development; an insider's view on how non-profit community organizations work; and the opportunity to explore a possible career.
During their internships, which began May 27 and runs through August 1, students research public policy and implement projects in urban planning, real estate development, job creation, social services, community organizing, and other areas. The program also has an academic component: Student interns must complete assigned readings, keep journals of their experience, write a final paper, and attend weekly on-campus seminars conducted by Dreier.
"The program is a win-win-win situation--for the students, for the community groups and constituencies they are working for, and for the College," he said. "It's a 'win' for me, too. I enjoy mentoring the students, watching the transformations they go through, following them through their careers at Oxy and afterwards, and knowing that for many of them, the summer internship was a life-changing experience."
The interns each receive a $3,900 stipend and get subsidized room and board at the College for the duration of their internships. The program is supported by grants from the Union Bank Foundation and the Friedman/Meyer Fund, and the college's Anderson Fund, Career Development Center and Undergraduate Research Center. 
The student interns are:
Including this year's group, 56 students have participated in the summer program since it began in 2004. They include 42 women and 14 men. Almost two-thirds have been students of color.