Submitted by kwall_admin on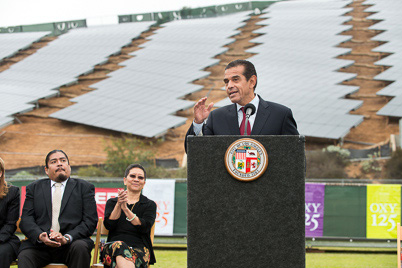 Occidental's innovative hillside solar array served as a backdrop Thursday for Los Angeles Mayor Antonio Villaraigosa's signing of the two largest contracts for solar power in the city's history.
The contracts with the Moapa band of Paiutes and Copper Mountain Solar in southern Nevada will provide 460 megawatts of clean solar energy, helping the city move toward its goal of 33 percent renewable power by 2020.
"Why did we pick Oxy? What they've done here is unique and important," Villaraigosa said at a well-attended press conference. "They understood as a college – a great college – they have an obligation to the community, and an opportunity to address the issue of climate change and to move toward renewable energy."
Occidental's decision to hire Lettuce Office to work with art faculty and create a hillside array that functions as a piece of art as well as a generator of clean energy "is truly visionary," the mayor said. "I will task the DWP with doing more of this kind of thing … This array is a beautiful representation of what a solar array can look like."
"This is a spectacular project," Thomas Sayles, president of the Board of Water and Power Commissioners, said when he took the microphone. "I certainly plan to take on the mayor's challenge to have more projects like this in Los Angeles."
Oxy's $6.8 million array, which includes a set of panels over an adjacent parking lot, is scheduled to be completed by the end of the month. It will generate approximately 11 percent of the College's annual power usage.