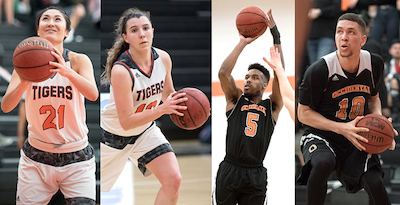 Four players on the Occidental men's and women's basketball teams took home All-SCIAC honors at the end-of-the-year coaches meeting on Tuesday.
Andrew Johnson '17, a 6-foot-6 forward from Loyola High School, was named First Team All-SCIAC, and Jay Miller '17, a 6-foot-1 guard from La Verne Lutheran, was named to the Second Team and won the Ted Ducey Award for outstanding achievement on and off the court.
Johnson led the SCIAC in scoring at 19.7 ppg and was second in rebounding at 7.4 rpg. He also shot 50 percent from the field and was fourth in steals at 1.5 spg.
Johnson, who was named Second Team All-SCIAC in his sophomore and junior seasons, surpassed the great Finn Rebasso '03 for second on the all-time Oxy scoring list. He played 99 of 100 games in his career, scoring 1,569 total points with 725 rebounds.
Miller, a First Team All-SCIAC selection in 2015, made the team for the second time in his career and was recognized for his work with Oxy's Project Safe — a sexual violence prevention and awareness program. He spent many of his hours off the court educating the Oxy community, performing orientations for Oxy athletic teams, fraternities and sororities, and Oxy faculty and staff.
Miller finished 15th in the SCIAC in scoring at 12.9 ppg. He suffered a broken hand in Oxy's season opener and then played the next five games with the injury. After getting surgery and missing seven games, he was able to make it back for the final 13 conference games.
With Miller in the lineup, Oxy went 11-8 overall and 6-7 in SCIAC play.
The Tigers went 14-11 overall and finished fifth in the SCIAC.
Two Occidental women's basketball players also earned awards at the coaches meeting on Tuesday. Triana Anderson '18 was named Second Team All-SCIAC and Erin Matsumoto '17 took home the Ed Baldwin Character Award.
Anderson, a junior from San Francisco, finished eighth in the SCIAC in scoring at 14.1 ppg and shot 47 percent from the field. She scored in double figures in 13 of Oxy's 16 SCIAC games.
Matsumoto, a senior captain from Oak Park, was recognized for outstanding achievement on the court, off the court and in the classroom. She is a three-year starter who scored 691 points and hit 78 three-pointers in her career before suffering a season-ending injury against Cal Lu on February 8.
In the classroom, Matsumoto was an excellent student, earning SCIAC All-Academic honors in every season that she was eligible. 
The women Tigers finished fifth in the SCIAC at 9-7 and posted a 13-12 overall record.