Submitted by kwall_admin on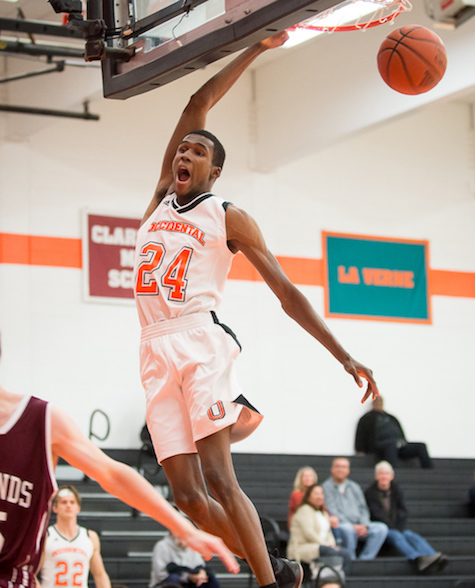 The Occidental men's basketball team clinched the No. 2 seed in this weekend's SCIAC Postseason Tournament when it cruised past Redlands 89-69 at Rush Gym on Tuesday, capping Oxy's best season in nearly a decade. 
The Tigers finish the season 19-6 overall, 12-4 in the SCIAC. They will host No. 3 seed and traditional rival Pomona-Pitzer at Rush Gym on Friday at 7 p.m. in the team's first home playoff game since 2008. The conference tournament determines the automatic bid to the NCAA Division III playoffs.
Juniors Austin DeWitz and Zach Baines both had monster nights in the Tigers' final regular season game. Dewitz put up 26 points on 10-of-16 shooting, grabbed nine boards, and racked up eight assists. Baines added another 24 points, eight rebounds, and a thundering two-handed dunk early in the second half.
Caleb Yellin-Flaherty '20 had another good effort, scoring 16 points and grabbing nine rebounds. Fellow sophomore Ryan Kaneshiro had six points and two assists, and frosh Jacob Adler hit a pair of threes for six points.
Oxy started out red hot from the field with Baines scoring the first eight points of the game and 20 of his 24 in the first half. Dewitz had a big half with 16 points and Yellin-Flaherty added 12 of his own.
Oxy started off the game strong on both sides of the ball -- shooting an impressive 62% from the field and out-rebounding Redlands by seven in the first half. The Tigers finished the half up 53-34.
The second half saw much of the same for the Tigers -- an unrelenting man-on-man defense and tremendous ball movement that would help them extend their margin of victory to 20 points. Oxy won comfortably enough to clear the bench, with all of its suited players getting a run.
Oxy's calling card this season has been its defense. Coming into the game, the Tigers were the only team in the country ranked in the top 10 in NCAA Division III for field goal percentage defense, 3-point field goal percentage defense and scoring defense.
The Tigers celebrated their only senior, Ian Bonde, in Tuesday night's victory. The senior played one of his best games of the year - scoring six points, grabbing two rebounds, and dishing out two assists in 15 minutes of work.
Bonde, a star wide receiver on the football team, contributed an unmatched work ethic and a much-needed senior presence in his first and only year with the basketball team. In three years with the Oxy football team, he caught 70 passes for more than 900 yards and nine touchdowns.
Friday's game in Rush Gym will be the Tigers' first home play off game in 10 years. No. 1 seed Claremont-Mudd-Scripps will host No. 4 Chapman in the other semifinal on Friday.