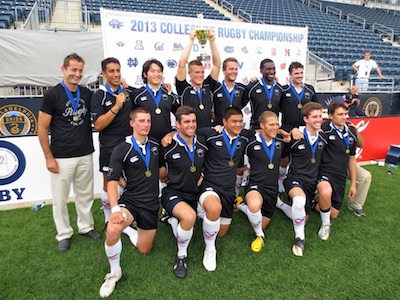 After losing only one match in a round robin-style tournament, they bested the University of North Florida 28-15 in the championship match at Philadelphia's PPL Park on Sunday, June 2.
"It's a great achievement for Oxy Rugby," said flyhalf Barnaby Audsley '14, an economics and sociology double major from Los Angeles and tournament MVP. "We've put in a lot of hard work building this program and had a lot of disappointments along the way. In the end it's how our hard work and camaraderie have paid off. It's been a long time coming, to tell you the truth."
Oxy wing Joey "Unicorn" Maloney '13, a kinesiology major from Sebastopol, added that support from alumni, fans and coaches has been an integral part of the team's ascent to the championship. In addition to this year's tournament in Philadelphia, the team also traveled to North Carolina and twice to Denver. According to Maloney, community members helped out with everything from meal preparation to transportation.
"The fans and alumni are the backbone of our team. Having their support sets us apart from other college rugby teams," said Maloney. "We are not just a rugby team, we are a rugby community made up of players, coaches, fans and family, and it is such a privilege to be a part of this community."
Audsley, Maloney, hooker Matt Tuckness '13, an economics major from Alamo, scrumhalf Max Horten '14, a diplomacy and world affairs major from Portland, Ore., and wing Jacob Sertich '16 from Exeter were all named to the NSCRO all-tournament 7s team.
The club also won the 2013 Southern California Rugby Football Union championship.