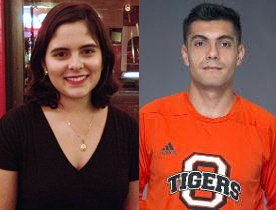 John Guzman Aguilar '15 and Georgina Garcia-Obledo '17 have each received a $5,000 IME-Becas Fellowship, sponsored by the Institute for Mexicans Abroad and the Consulate General of Mexico in Los Angeles and funded by the Mexican government. 
This is only the second year Occidental students have received the award, which is for Mexican and Mexican-origin students who demonstrate academic excellence.
"I am very grateful to have been awarded the IME-Becas grant," Garcia-Obledo says. "I have loved my experience at Occidental College, and could not be here without scholarships. Being recognized and supported by the IME means a lot to me because I feel a strong connection to Mexico, where I was born and where most of my family lives."
A native of San Francisco, Garcia-Obledo has given back to her community by working as a program leader for Junipero Serra Elementary School's After-School Success Club, designing school-year and summer academic, enrichment and physical education curriculum for third-grade students. In addition, as an intern teacher at Summerbridge school, she collaborated with mentor teacher and fellow intern teachers to plan and teach 9th-grade math and media literacy classes, and 
designed and taught a French elective course for rising 8th- and 9th-graders.
A first-generation college student, Garcia-Obledo is a President's Scholar at Occidental, a Gates Millennium Scholar, and has received the David Rockefeller International Experience Grant. The economics major, who spent a year at Harvard before coming to Occidental, speaks four languages.
After his 18th birthday, cross country and track standout Guzman Aguilar, who grew up in Upland, faced deportation to his native Mexico and was separated from his family. Five years later, after a two-year detour to Mexico, the junior transfer from Riverside Community College is on course to be the greatest distance runner in Oxy history. He is a two-time All-American and was also named Division III Cross Country West Region Athlete of the Year.
But he's not just all brawn: Guzman Aguilar boasts a 4.0 grade point average as a politics and Spanish double major. "As much as I love running, I love being in school," he says. "I like to read, I like to write."
"I am very pleased to receive this scholarship because not only does it help fund my studies, but it also brings a lot of pride to my family and me," Guzman Aguilar adds. "It took a lot of work for me to be able to come to the U.S. and attend college. My parents and I are happy that the country where we were born is looking to help us pay for my education."
"He is one of the most humble, mature and team-orientated people I've had the pleasure of coaching," track and cross country coach Rob Bartlett says of his star athlete.
IME-Becas grants are for low-income Mexican or Mexican-origin students who require financial support to start, continue or complete their education from undergraduate or graduate programs. They are awarded on the strength of recipients' academic records; previously demonstrated leadership ability as evidenced by campus and community engagement, public service and contributing to the welfare of others; and seriousness of purpose with ambition and aspiration to make a positive difference in local, regional or national communities.
For 2014-2015, the Consulate General of Mexico in Los Angeles received $150,000 from the program – nearly triple last year's amount --  to distribute to area schools, which also included UCLA, USC, Cal State Dominguez Hills, Cal State Long Beach and the University of La Verne.
"I am very pleased that the Mexican government has recognized the importance of supporting Mexican and Mexican-American students in the United States," says  Jorge Gonzalez, vice president for academic affairs and dean of the College. "It is critical that we continue to open the doors of higher education to deserving students with financial need. I am thrilled that Occidental has been able to partner with the Consulate General of Mexico in Los Angeles in this initiative."