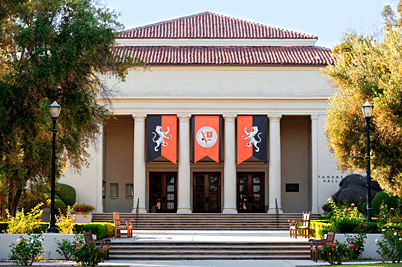 A three-part series of discussion, reflection and practice with national experts at Occidental College will explore the application of contemplative practice as applied to a diverse range of social change work. The series, free and open to the public, kicks off Tuesday, Feb. 10.
"Each session will be a time to practice together and engage in meaningful dialogue on how mindfulness informs justice work, and to cultivate a personal and collective sense of clarity, meaning, and purpose," says series organizer Thalia González, assistant professor of politics at Occidental.
"Each also will encourage reflection on how being mindful can support being in alliance and solidarity with those most often marginalized and excluded from spaces of power and privilege," González says.
Mindfulness initiatives and contemplative practice have emerged in higher education as an important pedagogical approach to connect students with new ways of thinking, listening, writing, and, more broadly, engaging in society.  Over the last five years, the application of contemplative approaches has increased considerably, both inside and outside the classroom. 
González has integrated mindfulness and contemplative practice into several of her own courses, "as I see the integration of contemplative practices in higher education as a model of integrated holistic education," she says. "It challenges students to cultivate presence, self-reflection, and critical first-person inquiry skills as they study and experience the complexity of relationships across local, national, and global communities."
As the integration of contemplative practices has increased across multiple disciplines, neuroscience research has demonstrated their benefits. In 2014, psychologists from Central Michigan University published findings that mindfulness meditation reduced implicit age and race bias.
The series will be held in Lower Herrick on the Occidental campus.
February 10: The Art & Discipline of Living Peace: Three Decades of Immigrant's Rights and Labor Advocacy
A 7 p.m. reception will be followed at 7:30 by a discussion and meditation with Victor Narro, project director for the UCLA Downtown Labor Center and longtime immigration reform advocate.
March 3: Exploring Mandalas
A 7 p.m. reception will be followed at 7:30 by a discussion and community sand mandala building with Loren Witcher, program manager for Tools for Peace and program director of the new Stop, Breathe and Think iOS app.
April 7:  Embodied Practice: Yoga and Social Justice
Professor Thalia González will lead a 6 p.m. roundtable discussion of Yoga and Body Image: 25 Personal Stories About Beauty, Bravery & Loving Your Body with co-editor Melanie Klein, professor of sociology and women's studies at Santa Monica College, and book contributors Audrey Bilger, professor of literature and faculty director of the Center for Writing & Public Discourse at Claremont McKenna College; Dr. Chelsea Jackson, yoga practitioner, teacher, and educator; and Hala Khouri, one of the creators of Off the Mat, Into the World, a nonprofit dedicated to utilizing yoga and somatic practices within a justice framework to inspire people to be conscious leaders of change. The roundtable discussion will focus on the intersectional themes of the book and include short readings by book contributors. The roundtable will be followed at 7:30 with a yoga practice in Lower Herrick with Dr. Jackson.
The series is sponsored by the departments of Politics and Religious Studies, Office of Community Engagement, Office of Religious and Spiritual Life, the Center for Community Based Learning, the Dean's Office, and Yoga and Body Image Coalition.
For more information, please contact Prof. Thalia González at thaliagonzalez@oxy.edu.