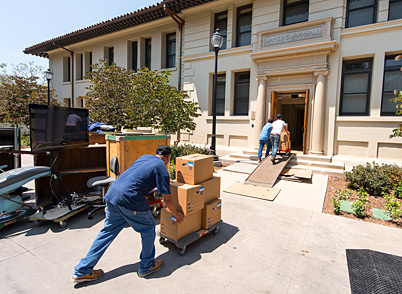 After 18 months of exile, Oxy faculty begin moving back into historic Swan Hall.
The 98-year-old men's dormitory-turned-office building has had a $19 million makeover – a complete renovation of the original building and construction of a new 22,500-square-foot wing that more than doubles its size.
Landscaping and other exterior work is still being finished, but faculty from six academic departments – American studies, English and comparative literary studies, history, politics, psychology, and sociology – began moving back in on Monday.
The unusual floor plan that gives the original building its "labyrinthine quality" remains largely intact, reports ECLS professor Michael Near, who was setting his new office to rights. But "The offices are large and comfortable, the lighting is well considered, the configuration of the offices allows for both social space and privacy, and the conference rooms are generous and convenient."
The two temporary trailer complexes they occupied during construction won't be going away soon. They will now be home to the faculty and staff of Johnson Hall who are being moved to allow for construction of the new McKinnon Family Center for Politics and Global Affairs.
A formal dedication of the renovated and expanded Swan is scheduled to be held during Homecoming Weekend, Oct. 26-27.