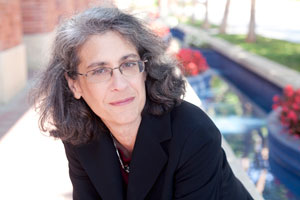 Mental health legal expert and best-selling author Elyn R. Saks will speak on "My Journey Through Madness: The Role of Treatment, Family and Friends, and Work in One Woman's Recovery" at 4:30 p.m. on Tuesday, April 28 in Swan Hall's Dumke Commons on the Occidental College campus.
Underwritten by the Ruenitz Trust Fund Endowment in honor of Dr. and Mrs. Robert C. Ruenitz , the Occidental Phi Beta Kappa Speakers Series Lecture is free and open to the public.
Saks is associate dean and Orrin B. Evans Professor of Law, Psychology, and Psychiatry and the Behavioral Sciences at USC's Gould Law School. In 2007 Saks came forward with her own story of schizophrenia, controlled by drugs and therapy but ever-present, in her best-selling memoir, The Center Cannot Hold: My Journey Through Madness.
A 2009 recipient of a MacArthur Foundation fellowship, she used the funds from her "genius grant" to create the Saks Institute for Mental Health Law to foster interdisciplinary and collaborative research among scholars and policymakers around issues of mental illness and mental health.
Herself a member of Phi Beta Kappa, Saks is a graduate of Vanderbilt University who earned her master of letters from Oxford University and her law degree from Yale University. She specializes in mental health law, criminal law, and children and the law. Her recent research has focused on ethical dimensions of psychiatric research and forced treatment of the mentally ill.
The Speakers Series was created in 2006 with a gift from New York entrepreneur Robert M. Ruenitz '60 and his wife Jeri Hamilton through the Ruenitz Trust to honor the memory of Ruenitz's parents, Esther Merriman Ruenitz and Dr. Robert C. Ruenitz.
Founded in 1926, the Occidental Delta Chapter of Phi Beta Kappa is one of the first chapters of the country's oldest academic honor society to be chartered at a liberal arts college in the western United States.
Previous Ruenitz lecturers have included Howard Dean, MD, the former Governor of Vermont; Ahmed Zewail, the Nobel Prize-winning chemist; author and educational critic Jonathan Kozol; social critic Judith Butler; author and activist Ayaan Hirsi; Bill Nye the Science Guy; and medical activist Paul Farmer.