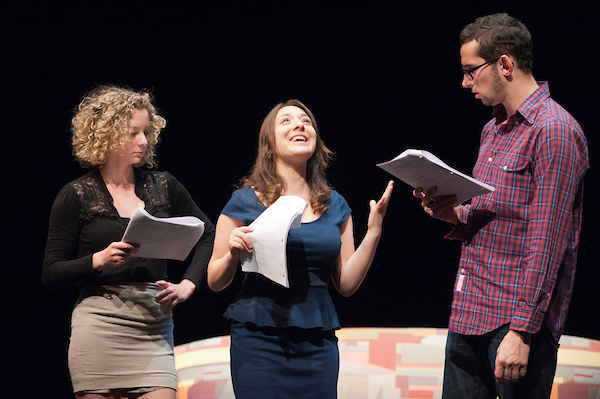 Occidental College's New Play Festival will celebrate its 20th anniversary Feb. 23-25 with staged readings of five new student plays and a fast-paced evening of original mini-plays written by 20 Oxy alumni, all in Keck Theater. Admission is free.
Among the alumni staging their work will be Anne Garcia Romero '87, whose plays have been performed at the New York Shakespeare Festival, the Mark Taper Forum, and the Eugene O'Neill National Playwrights Conference; Erik Patterson '00, Ovation Award-nominated playwright and Emmy-nominated TV writer; and Rachel Noll '08, actress, screenwriter and filmmaker known for her indie feature Don't Pass Me By.
Each of the alumni mini-plays falls under one of four themes proposed by Festival director Laural Meade '88 based on alumni suggestions: What the Keck Just Happened?; Love, Art, Compassion (in 4 minutes); Adult Realness Extravaganza; and Office Hours.
"I knew they would want to have fun," says Meade, whose own mini-play will be among the alumni contributions. "I'm delighted so many alumni are on board to celebrate. I'm looking forward to a joyful good time where we really foster our connection and collaboration with creative professionals who also happen to be alums."
What sets Oxy's New Play Festival apart from other college festivals is Meade's policy of matching each student playwright with a professional director and one or more professional actors who work alongside student performers. "Often, college productions of student plays center the actor -- we put writers first," she says. This year, in honor of the 20th anniversary, all guest directors and actors are Oxy alumni.
Any student in any major can submit a one-act play to the Festival, where a faculty panel reads the submissions blind and picks five to produce. Given the short time frame, each play is presented as a staged reading, with minimal design elements.
The 2018 Festival selections are:
Blue Sky State by Ari Nord '18, a philosophy major from Billings, Montana, directed by Alan Freeman '66 M'67. Maya comes back to her rural family homestead to care for her aging mother. But she can no longer hide the real legacy of their land – from herself or her family. In the face of the truth, how can we balance personal and political responsibility?
Out of The Woods by Kylie Brakeman '18, a theater major from Pasadena, directed by Alana Dietze '07. Three female friends try to get off the grid and out of the grind in this farcical send-up of hipster escapism. Will their utopian glamping survive office interlopers, yurt ghosts and the ultimate flower child?
Tom Flackford's Death Party by Richard H. Via '19, a theater major from Round Lake Beach, Ill., directed by Kaja Martin '08. Can a small coat closet at the local funeral home contain a huge love triangle? Michelle loves her husband Mark who loves their friend Phillip. And who cares if someone's dead - no one's going to let mourning (or singing a killer eulogy song) get in the way of their final showdown.
Tragedy + Time by Greg Feiner '18, a politics major from La Jolla, directed by Winston A. Marshall '10. Stand-up comics Terence and Katrina have too much serious business in their own lives to take on the light-hearted nature of love. But maybe a few laughs together are just what their separate tragedies need.
Play Pretend by Eliana Sternin '19, a theater major from Van Nuys, directed by Emma Zakes Green '09. Three little girls become three teenagers become three young women in this exploration of self, sexuality and honesty. With each new year, we meet two sisters and their best friend through the lens of games: make-believe, drinking games, role play. But when the lines blur it's sometimes impossible to know where the fun stops and real life begins.
Blue Sky State will open the Festival on Friday, Feb. 23 at 7 p.m. Three performances will follow on Saturday, Feb. 24: Out of the Woods at 4 p.m., followed by Tom Flackford's Death Party and Tragedy + Time at 7 p.m. On Sunday, Feb. 25, Play Pretend at 5 p.m. will precede 20 Tiny Plays by 20 Big Alums at 6:30 p.m.
In addition to Garcia Romero, Patterson, Noll, and Meade, participating alumni playwrights include Gladys Eva Angle '11, Brandon Baruch '07, Karen Baughn '08, Soren Bowie '04, Nina Rose Carlin '15, Joe Chandler '01, Courtney Dusenberry '10, Kirsten Easton '13, Zee Echo Eskeets '07, Maricela Guardado '17, Hilly Hicks '92, Jeff Kauffmann '01, Winston A. Marshall '10, Claudia Restrepo '10, Marvin Solomon '00, and Will Watkins '01. Meade and Tristan Waldron '14 are co-directing 20 Tiny Plays by 20 Big Alums.