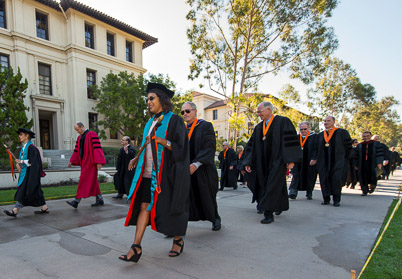 Five new tenure-track scholars have joined the Occidental faculty, from a volcanologist to a specialist in modern China. 
Brandon Browne is the geology department's newest associate professor. Alexander Day will be teaching history as an assistant professor. Assistant Professor Mary Johnson is a new addition to the Spanish & French literary studies department. Krystale Littlejohn '07 will be joining the sociology department as an assistant professor, and Jennifer Piscopo will be an assistant professor in politics.
A volcanologist, Browne returns to his old stomping grounds (he grew up in La Canada Flintridge) from the University of Alaska in Fairbanks, where he completed his Ph.D. in 2005. Browne's research tries to understand how -- and over what time periods -- volcanic eruptions are triggered. His graduate studies took him to volcanoes from Alaska to Mexico, Japan to Chile.
He plans to build a laboratory at Oxy that will allow him to experimentally replicate magmas erupted from volcanoes as a way of understanding more about this process. "Hopefully this lab will be running and ready for students to begin research projects with me by the end of the school year," he says.
Day's research focuses on modern Chinese history. He comes to Oxy from Wayne State University in Detroit, where he taught Chinese, East Asian and world history for the last six years. He says he has always wanted to teach at a school that is similar to Colby College in Maine, where he did his undergraduate studies.
Day has spent over five years in Asia, mostly China. During his first week teaching at Oxy, the American edition of his book, The Peasant in Postsocialist China: History, Politics, and Capitalism, was released by Cambridge University Press. He is beginning a second project on the history of tea production and the rural-urban relationship in modern China. Other research interests include radical politics and transnational social movements. 
Johnson received her Ph.D. from the Ohio State University in Hispanic linguistics. At Ohio State she taught several beginning and intermediate language courses, as well as some advanced courses on Spanish linguistics.
Her research interests focus on sociolinguistics and pragmatics, specifically with regards to Argentinian Spanish. She is also interested in negation in languages and the acquisition of pragmatics.
"I love my research, but teaching is something I have grown to value very much, so for me that was the draw to Oxy. I think the environment is conducive to research, while still granting importance to teaching and fostering good professor-student relationships. I'm excited to be a part of this community," she says. 
Los Angeles native Littlejohn graduated from Oxy in 2007, where she was a sociology and Spanish double major. She received her Ph.D. in sociology from Stanford University in June.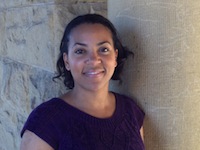 Her research and teaching interests include social demography, the family, health and quantitative methods, race and ethnicity, gender and sexual behavior. "I have two lines of research -- one in the social dimensions of birth control use as a window into understanding unintended pregnancy, and the other in race and romantic partnership among multiracials," she says.
Piscopo came to Oxy after two years teaching at Salem College, a small liberal arts college in North Carolina. She received her Ph.D. in political science from the UC San Diego in 2011, where she was a visiting fellow at the Center for U.S.-Mexican Studies from 2009 to 2010. Her research interests include representation, gender quotas, and legislative institutions in Latin America. She has extensive research and travel experience in Latin America, and is a former Gates Cambridge Scholar.
With Susan Franceschet and Mona Lena Krook, she is editor of The Impact of Gender Quotas (Oxford University Press, 2012).
"I was drawn by Oxy's fantastic students, emphasis on faculty engagement in teaching and research, fabulous location, and the chance to teach in the Latin American and Latino/a Studies Program," she says.