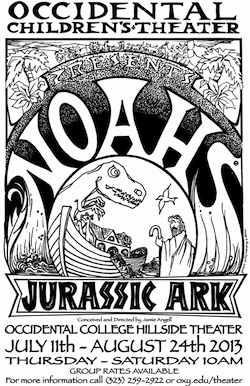 Occidental Children's Theater returns for its 18th summer to delight audiences of all ages with its adventurous adaptations of traditional folktales. 
This year's production, Noah's Jurassic Ark, is the latest original mashup from the creative mind of director Jamie Angell.
The performances begin a seven-week run on July 11, Thursdays through Saturdays at 10 a.m., at Remsen Bird Hillside Theater on the Occidental campus.
The hour-long performance will consist of three adaptations of traditional folktales: "The Magic Mortar" (Japan), "The Cow Who Tried to Act Like a Kitten (Spanish California)," and a Native-American story, "Coyote and the Trader" (Brule Sioux tribe).
The energetic and funny stories are performed without props, sets or special costumes, relying only on the performers' acting and acrobatic skills.
"We work in the round, so the audience is right on top of the action," Angell said. "The unconventional material and the absence of props or costumes force both the actors and the audience to rely on their imaginations. It's remarkably different from most anything else you see in children's theater today."
The play will feature alumnus Tristan Waldron '12, recent graduates Giulia Davis '13 and Robert Lundgren '13, and current students Aly Fritz '14, Savannah Gilmore '15 and Sarah Martellaro '14.
Noah's Jurassic Ark will also be performed at local recreation centers on Wednesdays, beginning July 17 at Yosemite Recreation Center in Eagle Rock. The following Wednesday, July 24, the performance will take place at El Centro de Accion Social in Pasadena. Further locations have not yet been determined and will be announced.
Tickets are $10 for adults and $7 for children. 
Discounts are available for groups of 15 or more; call (323) 259-2771 or email theater@oxy.edu to reserve group tickets. Go here to purchase tickets online.
In addition, Occidental's Summer Institute of Fun opens July 15 and runs for four one-week sessions. The Institute consists of performance workshops, with Occidental Children's Theater actors teaching local youth, including scholarship students from Eagle Rock Elementary and Toland Way Elementary.
"We have always believed in outreach and this extends our work by accommodating youth who might not otherwise have the wherewithal to develop their interest in the performing arts," Angell says.
Workshops include training in dynamic physical theater, group improvisation and basic movement techniques. For more information or to register online, click here.