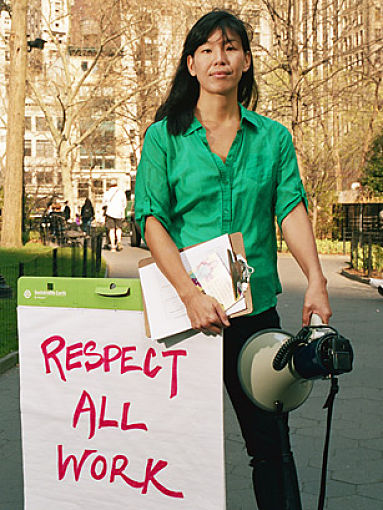 Ai-jen Poo, the dynamic founder and leader of the National Domestic Workers Alliance, will speak at Occidental on Tuesday, October 23 at 6:30 p.m. in Mosher 1.
Poo is a nationally recognized leader of the immigrant workers rights movement. She led the fight for passage of the Domestic Workers' Bill of Rights in New York state, the first of its kind in America. Her organization led the campaign to pass a similar bill in California (recently vetoed by Gov. Jerry Brown).
The title of her talk is, ""Building a 21st-Century Movement for Democracy and Social Change: Lessons From Domestic Worker Organizing."
"I'm thrilled to share our experience organizing domestic workers and to learn together with students interested in social justice," Poo said of her visit to Oxy. "The future is in our hands."
The daughter of Taiwanese immigrants, Poo attended Columbia University and has been a community organizer since graduation. She began organizing immigrant women workers in 1996 as the Women Workers Project organizer at CAAAV Organizing Asian Communities in New York City. In 2000, she co-founded Domestic Workers United (DWU), a city-wide, multiracial organization of domestic workers. Time magazine selected her as one of its  "100 Most Influential People in the World."  She has also received the Ms. Foundation Woman of Vision Award and the Independent Sector American Express NGen Leadership Award, and was featured in Newsweek's 150 Fearless Women list. She was also interviewed recently by Bill Moyers, and was profiled by Barbara Ehrenreich in the New York Times magazine.
"The Intercultural Community Center is very pleased to host Ai-jen Poo as part of our annual Valuing Diversity Series," said Paula Crisostomo, assistant dean of students for intercultural affairs. "We thought it was perfect timing when presented with the opportunity to bring such a renowned labor organizer to campus, given all the excitement among students last year around the Occupy movement and with the union-related legislation this fall. The excitement leading up to this event among students interested in social justice is simply electric."
Poo's visit to Oxy is being sponsored by the departments of  Urban and Environmental Policy, politics, Latino/a & Latin American studies, critical theory and social justice, and the California Immigration Semester, with generous funding from the Remsen Bird Fund. Additional funding was provided by the office of religious and spiritual life, the office of residential life, the Center for Community Based Learning and the office of the dean. This event is part of the Valuing Diversity Series on Citizenship and Participation in Democracy, a program of the ICC.