Submitted by kwall_admin on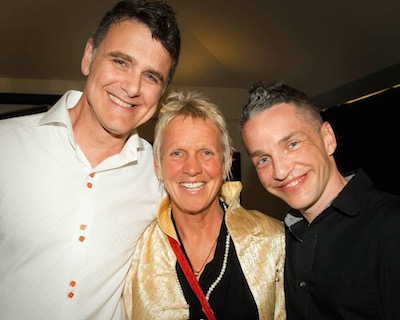 Occidental College will host a preview screening of Associate Professor of Media Arts & Culture Broderick Fox's new feature-length documentary, Zen & the Art of Dying, on Wednesday, April 1 at 7 p.m. in Thorne Hall. 
This advance screening is exclusively for the Occidental community as the film commences its festival journey and public life. A brief Q&A with Fox will follow.
The film focuses on Zenith Virago, a self-described "deathwalker" in the idyllic seaside town of Byron Bay, Australia. The most sought-after marriage celebrant in an increasingly commercialized wedding-destination town, Virago is also co-founder of the Australian Natural Death Care Centre, an organization that provides end-of-life decision planning and DIY funeral alternatives to residents of Australia's North Coast. 
Whether marrying or burying, Virago's mission remains clear: to help people reclaim their most personal, profound and vulnerable life moments from commercial forces, government bureaucracy and cultural taboos. Virago's example, and the willingness of Byron Shire's citizens to join her cause, invite each of us to reexamine and reclaim a more active role in how we live, love and die.
"The production crew for Zen & the Art of Dying consisted only of myself as cinematographer/director and my partner Lee Biolos as sound recordist/producer," Fox says. "With this small footprint, we embedded with Zenith for five weeks during which she and the community of Byron Bay offered us access to some of their most intimate and vulnerable moments. The experience was both humbling and inspiring, and it is my hope that the natural death-care movement they exemplify will similarly inspire other individuals and communities to join in 'doing death differently.'"
Zen & the Art of Dying held its world premiere on March 14, 2015 as the closing night gala film of the 2015 Byron Bay International Film Festival. "I could not have imagined a more positive and heartfelt response to the film," Fox says. "It was a relief and a gift to have the film's participants present at that screening and have them tell me that their stories and those of their deceased friends and family were done justice." 
Fox's most recent documentary was 2012's The Skin I'm In, which won several awards and screened in 18 cities in 11 countries. Fox's narrative, experimental and documentary works present challenging, socially relevant issues through accessible, character-driven storytelling and have screened in over 50 international festivals. 
"I often call my production works 'embodied' media for their address of gender, sexuality, addiction, body dysmorphia, fantasy, illness and other frequent sites of cultural shame and bodily taboo," Fox says. "My use of character-driven storytelling and a range of unexpected aesthetic modes both embrace and challenge documentary form and function, yet permit audiences to deeply identify with challenging perspectives and subject matters traditionally excised from mainstream media."
Fox was one of 12 California artists awarded a 2014 Artistic Innovation Grant from the Center for Cultural Innovation in support of Zen & the Art of Dying. He teaches courses in film theory and production at Occidental. His book, Documentary Media: History -- Theory –- Practice, is available through Pearson Press.