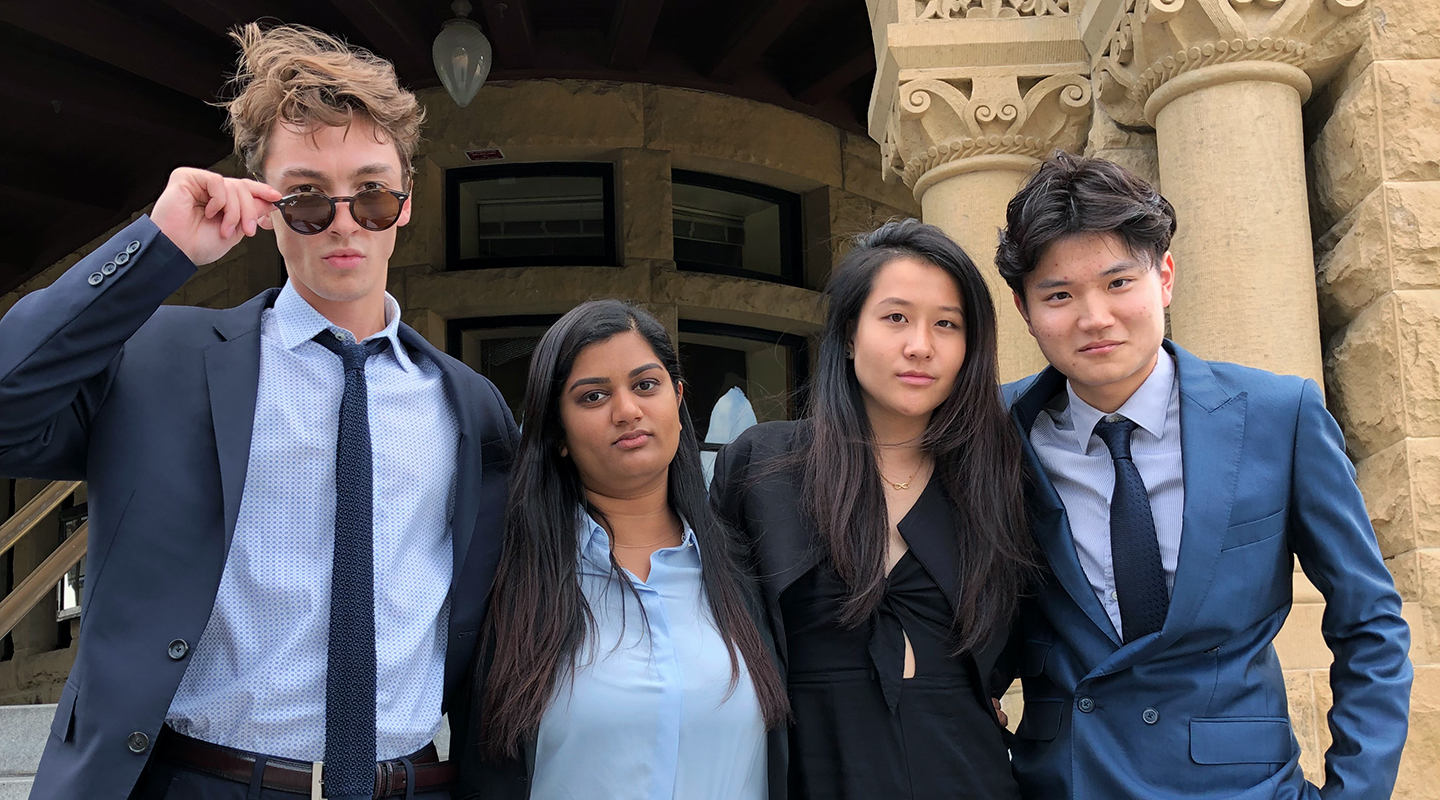 An Occidental Blyth Fund team walked away with second place in Stanford Finance's Stock Pitch Championship as a first-time entry in the annual competition that attracts teams from across the country.
"Since the whole pitch team will be graduating together in a couple weeks, it was great to leave a legacy for the Blyth Fund, as well as put Oxy's name on the map," says Julian Hardman '19, an economics major from Portland, Ore., and a Blyth Fund director.
Sponsored by investment bank Morgan Stanley and San Francisco hedge fund Coatue Management, the championship attracts teams that vie to make the most effective pitch to purchase stock in a particular company in front of a panel of hedge fund managers, banking executives and Stanford faculty.
Oxy's all-senior team—Blyth President Pooja Singh, a biochemistry major from Sunnyvale, Blyth Director Ryan-Yuzhe Zhu, an economics major from Ningbo City, Zheijiang, China, Blyth Vice President Michelle Kong, an economics major from Guangzhou, China, and Hardman—pitched the stock of Micron, an American semiconductor manufacturer at the April 27 competition on the Stanford campus.
Oxy's team was the only one from a small liberal arts college. The rest of the field included Harvard, Berkeley, Michigan, Duke, Notre Dame, and the University of Texas at Austin's McCombs School of Business, the eventual winner.
Occidental's Blyth Fund was established in 1977 with a gift from an anonymous donor to honor the legacy of legendary investment banker Charles R. Blyth by providing hands-on experience for students in investment management. The fund is wholly student managed. A 14-member board, selected each spring, maintains the Fund's portfolio, with one-third of any net gains rolling over into the College's endowment.