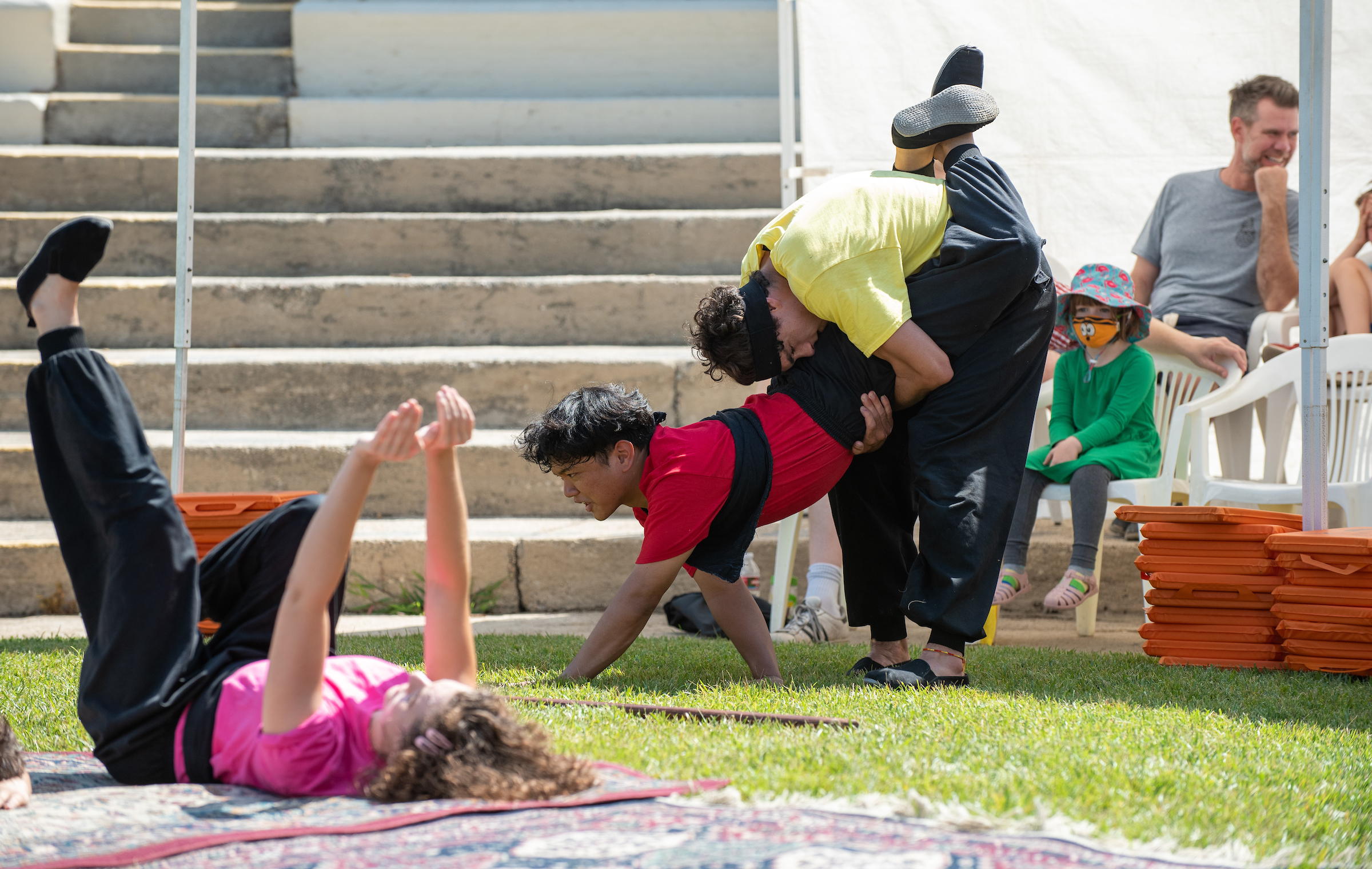 The critically acclaimed Occidental Children's Theater is celebrating more than​25 years with an original story, The Good, The Bad, and the Ugly Duckling, plus three adventurous adaptations of traditional folktales for a seven-week outdoor run in the Remsen Bird Hillside Theater on the Occidental campus.
Summer performances (there is shade for audience members) will run Thursday through Saturday, beginning at 10 a.m., through August 20.
In about an hour, ​the cast of six will perform four energetic and funny stories without props, sets or special costumes, relying only on their acting and acrobatic skills. "The cast carries it off with the unflagging charm that has made this reliable company one of the Southland's – and the summer's – most entertaining children's theater offerings," says the Los Angeles Times.
Conceived, written and directed by Jamie Angell, the theater's founding artistic director, the cast of Occidental alumni and students features Lily Abha Cratsley '23, Savannah Gilmore '15, Dyoni Isom '19, Kai Morfin '22, Sergio Perez '20 and Tristan Waldron '12. Megan Johnson '19 is stage manager.
The play's script and action are the result of weeks of improvisation and revision by Angell, as well as the cast. The three traditional stories are the troupe's versions of folk tales from Uganda ("Wakaima and the Clay Man"), Japan ("Momotaro, the Peach Boy") and New Mexico ("Caught on a Nail").
Tumbling, commedia dell'arte (Italian improvisatory comedic theater), and even clowns influence the physical acting style of the troupe, Angell said. The unconventional material and the absence of props and costumes also force the actors and the audience to rely on their imaginations.
"This is kind of like tightrope walking," he added. "We use our bodies and voices to suggest what the audience's imagination will fill in. We're creating images out of the air."
Tickets are $12 for adults, $9 for children ages 12-2 (children under 2 are free), and can be purchased online. Questions? Call (323) 259-2922 or email theater@oxy.edu.