Submitted by kwall_admin on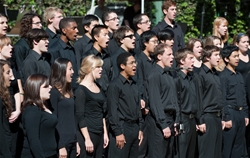 The Occidental College Glee Club will tour Northern California May 16-20, performing in San Luis Obispo, San Simeon, and San Francisco, among other cities.
The choir will sing in local churches, at Hearst Castle, and at Stanford University Memorial Church. The concerts are free and open to the public. In addition, the Glee Club will sing at several high schools as part of an outreach effort to attract students interested in singing at the collegiate level.
"It's a way to make kids aware of Oxy and to hear from a liberal arts school that has a really great choral program," said Desiree LaVertu, Occidental's director of choral music.
The Glee Club's a cappella concerts will feature a mix of classical, Latin American, and American pop songs, including Palestrina's "Sicut Cervus," the Argentine song "Te Quiero," Simon and Garfunkel's "Bridge Over Troubled Water," and "Man in the Mirror" by Michael Jackson.
On May 14, the day before Occidental's Commencement in Herrick Chapel, the choir will also perform its annual Senior Concert, in which graduating Glee Club members will be recognized.
The Occidental Glee Club has a long and venerable history. The group made its first appearance Oct. 26, 1906, when it sang at the inauguration of College President John Willis Baer. Among the eight charter members was Clarence Spaulding 1907, Occidental's first Rhodes scholar.
For more information about the Senior Concert and Glee Club tour, contact lavertu@oxy.edu or call (323) 259-1333.
Occidental Glee Club Senior Concert and Spring Tour 2011
Saturday, May 14, 4 p.m.: Senior Concert, Herrick Chapel, Occidental College.
Monday, May 16, 11:15 a.m.: Maravilla Senior Living Community, 5486 Calle Real, Santa Barbara. http://bit.ly/iTNO6k
Tuesday, May 17, 10-11 a.m.: Visitor Center and Refectory, Hearst Castle, 750 Hearst Castle Road, San Simeon. Please note that while the performances are free to the public, Hearst Castle charges admission. Go to www.hearstcastle.org/ for more information.
Tuesday, May 17, 7:30 p.m.: Trinity Lutheran Church, 1225 Hopyard Road, Pleasanton. www.trinitypleasanton.org/
Wednesday, May 18, 2 p.m.: Stanford University Memorial Church, 450 Serra Mall, Stanford. www.stanford.edu/group/religiouslife/
Friday, May 20, 7:30 p.m.: First Unitarian Universalist Church, 1187 Franklin Street, San Francisco. www.uusf.org/