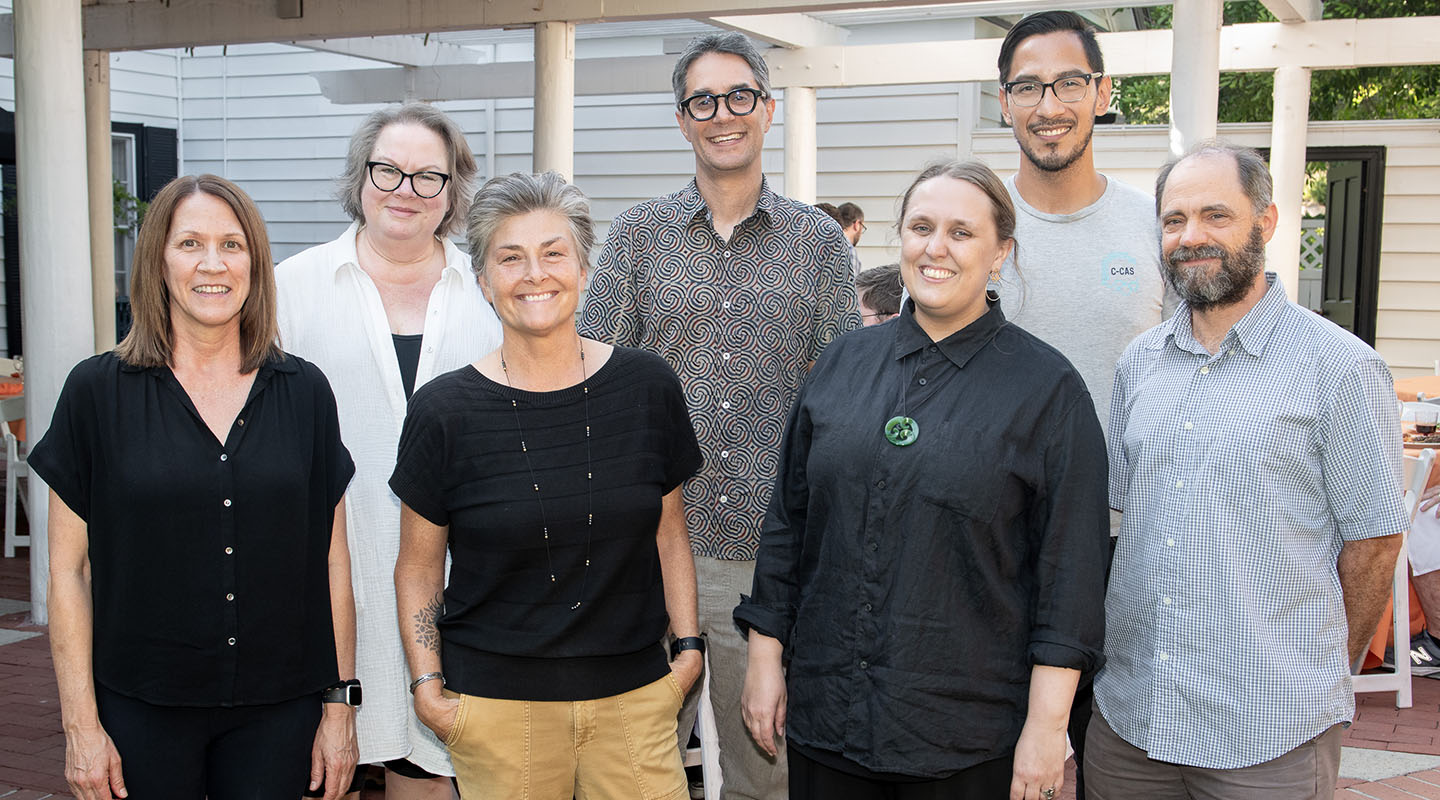 Nine Occidental College professors have been honored for exceptional teaching, advising, scholarship and service by their students and colleagues.
Shana Gofreddi, professor of biology, has been awarded the prestigious Graham L. Sterling Memorial Award, established in 1972 to recognize a faculty member with a distinguished record of teaching, service and professional achievement.
Gofreddi "is a jolt of energy that brought us to life, and helped us rediscover the joys of science, teaching, and mentoring," her faculty colleagues wrote. "She united us with her uncanny ability to find common ground across our sub-disciplines; subsequently, she has served as a source of inspiration across the College, sharing her creative energy with faculty and students from many departments. She is a force for excellence in all things."
Alexander (Sasha) Day, associate professor of history; Amy Holmes-Tagchungdarpa, associate professor of religious studies; and Raul Navarro, assistant professor of chemistry, have been presented with the Linda and Tod White Teaching Prize, which is based on student nominations. It has been presented since 2008, thanks to the generosity of Linda and Tod White '59.
Day was nominated by students who called him "emblematic of the liberal arts college professor. He is engaging in his classes, intellectually provocative, generous with his support, and genuine in his interactions." They praised him for creating an engaging learning environment that prompted them to think critically about class material and come to their own conclusions. His classroom discussions "were remarkable, both for their content and how they regularly continued outside the classroom. His ability to spark engaging discussion in a class is what kept me coming back to his courses again and again, and recommending them to my friends and peers," wrote one student.
"I have had many phenomenal professors but none have demonstrated the teaching excellence, depth of knowledge, and profound compassion and empathy that Prof. Holmes-Tagchungdarpa has," one of her students wrote. Added another: "She has a preternatural sense of when to lighten or adjust coarse load or push back class deadlines or offer extra support when she knows students are at a busy point in the semester."
"Especially in a field of study notorious for rigor and a sink-or-swim attitude, Dr. Navarro stands out for his ability to connect on a personal level and for his sensitivity to students' needs," one student wrote. Another cited Navarro's belief in her as the key to her academic success. "His unfailing support allowed me to flourish, especially during the turbulent quarantine period, and he has become someone I routinely seek out for advice not only in my professional development, but in other aspects of my life as well."
Clair Morrissey, associate professor of philosophy, is the 2023 winner of the Donald R. Loftsgordon Memorial Award for Outstanding Teaching, presented annually by the senior class to a faculty member who has made a substantial impact on the personal and academic development of the senior class members.
Morrissey has the uncanny ability to remember everyone's name, is enthusiastic, encouraging, and willing to meet outside of office hours, seniors said.  "She has gone above and beyond to help my intellectual growth, listening to me talk through all of my stress and confusion about my future life plans (which she had no obligation to do at all)," one senior wrote. "She is my favorite professor at Oxy, and has been, probably, the single most impactful person I've interacted with at Oxy. Her mentorship is unmatched."
Julie Prebel, associate professor of American studies, was presented with the Janosik-Sterling Award for Service to the College, created in 1993 to honor the memory of Politics Professor Robert Janosik.
Prebel was cited for her advocacy of alternative grading practices; offering popular pedagogical workshops to help faculty prepare for remote teaching during the pandemic; co-chairing the campus-wide Justice, Equity, Inclusion & Diversity Working Group and centering diversity in faculty hiring; and her major contributions to the College's writing programs as well as the Core Standing Committee. "Julie is extraordinarily dedicated to Oxy and we are so fortunate to have her here," her faculty colleagues wrote. "She is one of the hardest working people on our campus, and has a positive impact on the life of the College in many ways."
Aleem Hossain, assistant professor of Media Arts & Culture, is the inaugural recipient of the Faculty Prize for Advising Excellence. Aleem was chosen for his inclusive advising practices, his approach to supporting students who are struggling or in crisis, and his commitment to providing guidance and mentorship to both advisees and other students interested in pursuing film or television careers.
Other faculty award winners include:
Assistant Professor of Biology Amber Stubler is the recipient of the Kurata Award for Faculty Excellence in Biology, as selected by biology students.
Laural Meade, resident professor of theater and performance studies, has been named the inaugural recipient of the Undergraduate Research Mentorship Award.