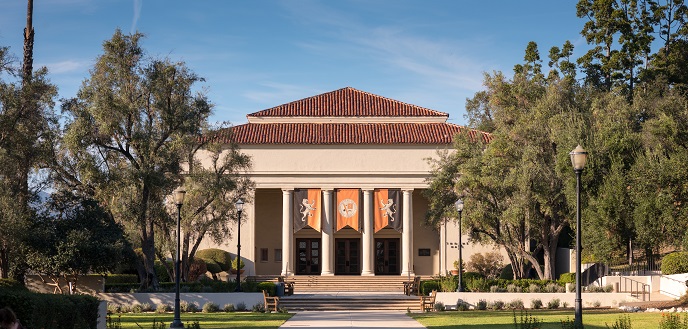 This year's results are in: Occidental College is one of the top-ranked liberal arts colleges in the country.
Oxy is ranked highly in the 2018-2019 editions of major college guides, including U.S. News & World Report, Princeton Review's The Best 384 Colleges, the Fiske Guide to Colleges, and The Wall Street Journal.
Occidental ranks No. 39 in U.S. News' annual rankings, up five slots from last year. It receives four-star ratings for academics and quality of life from Fiske, and ratings of 91 for academics and 96 for financial aid from Princeton Review. The Wall Street Journal/Times Higher Education rankings listed Occidental No. 36 among U.S. liberal arts colleges.
Occidental also appears in the top college lists compiled by Forbes, Money Magazine and Washington Monthly. Money lists Occidental as a "Best College For Your Money" pick; Oxy also appears on U.S. News' "Best Values" list.
While college guides use a variety of measures to evaluate colleges, The Wall Street Journal and now U.S. News have begun to focus less on test scores and acceptance rates and more on student engagement, graduation rates, and measures of social mobility.
In this year's U.S. News rankings, more than one-third of a school's rank comes from its success at retaining and graduating students; new is a social mobility measure based on graduation rates for Pell Grant recipients.
"It's refreshing to see the emergence of rankings that attempt to measure outputs – students' level of engagement and what they are able to accomplish with their degrees after they graduate," says Vince Cuseo, Occidental's vice president of enrollment and dean of admission. "We believe that is more helpful to prospective students and parents and more reflective of our mission and what Oxy students – and alumni -- actually experience."
Oxy also ranks high in areas outside the classroom. Out of a sample of more than 2,000 colleges and universities nationwide, Oxy was ranked No. 22 for the quality of its food in The Daily Meal's 2018 rankings of collegiate cuisine.