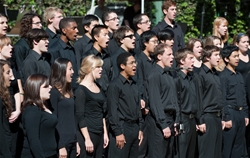 The Occidental Glee Club and newly revived College Chorus will raise their voices in song at their much-anticipated annual holiday concerts Friday and Saturday, Dec. 4-5, in Occidental's Herrick Chapel.
Desiree LaVertu, the vocal groups' new director, will lead the choirs in Hanukkah and Christmas favorites, works by Beethoven and Mendelssohn, and John Rutter's "Gloria" with organ, brass and percussion. Brass players from the Occidental-Caltech Symphony, Oxy percussion teacher Mike Englander, and Bill Schmidt, organist at South Pasadena's Oneonta Congregational Church, will accompany the choirs in the sacred, three-movement piece.
WHAT: Occidental College Glee Club & College Chorus Holiday Concerts
WHEN: Friday and Saturday, Dec. 4-5, at 7:30 p.m.
WHERE: Occidental's Herrick Chapel, 1600 Campus Road, Los Angeles, CA 90041
TICKETS: Free to Oxy community with ID; $10 general admission
INFO: E-mail nnavarro@oxy.edu or call (323) 259-2785
Occidental's all-female and all-male a cappella groups, the Accidentals and Cadence, respectively, will also sing. In addition, student conductors will lead the performances of the Christmas carols. The concerts are free to the Oxy community with ID and $10 for general admission.
"I've tried to create a classic collegiate concert," said LaVertu, the longtime choral director at Caltech before coming to Oxy. "So many people love holiday concerts, and I like getting them into the mood of the season."
The Dec. 4-5 concerts will not only mark her first holiday concerts as Oxy's choral director, but also the first performance in years of the College Chorus. LaVertu has renewed the former Occidental Chorale into a 40-plus member choir open to Oxy students, faculty and staff, alumni and the local community. She aims to grow the group into an 80-member master works chorale, and will hold auditions for the College Chorus in January, 2010. Please check the Occidental choral website in coming weeks for details.
Initially trained as a pianist, LaVertu graduated with a master of music degree in choral and vocal studies from the University of Nevada, Reno, and a bachelor of arts in accompanying from Cal State Fullerton.
Prior to her arrival at Occidental and her experience at Caltech, LaVertu was on the voice faculty of Chapman University in Orange and the summer graduate program at Cal State Los Angeles. She is a choral-vocal faculty member of the Idyllwild Arts Summer Program festival choir, and also teaches privately.