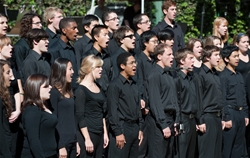 The Occidental College Glee Club will tour Massachusetts from May 22 to 29, performing in Cambridge, Falmouth, Sherborn, and Cape Cod's Yarmouth Port. All performances are free and open to the public.
"The Glee Club will bring its signature blend of classical and contemporary masterpieces to New England," said Desiree LaVertu, Occidental's director of choral music. "The tour is a way to give back to alumni, make students aware of Oxy, and hear from a liberal arts school that has a really great choral program."
The choir will sing Mozart's "Misericordias Domini," folk songs from Scotland, Bulgaria, and India, and traditional American barbershop favorites, among other pieces.
The Occidental Glee Club has a long and venerable history. The group made its first appearance Oct. 26, 1906, when it sang at the inauguration of College President John Willis Baer. Among the eight charter members was Clarence Spaulding 1907, Occidental's first Rhodes scholar.
For more information about the Glee Club tour, contact lavertu@oxy.edu or call (323) 259-2785.
Occidental Glee Club Spring Tour 2012
Tuesday, May 22
8 p.m.
First Congregational Church of Falmouth
68 Main St.
Falmouth, Mass. 92540
Wednesday, May 23
7:30 p.m.
First Congregational Church of Yarmouth
329 Main St.
Yarmouth Port, Mass. 02675
Sunday, May 27
4 p.m.
Pilgrim Church
25 S. Main St.
Sherborn, Mass. 01770
Tuesday, May 29
7:30 p.m.
Edward M. Pickman Concert Hall
Longy School of Music
27 Garden St.
Cambridge, Mass. 02138