Submitted by kwall_admin on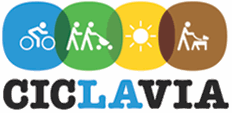 The car may be king in Los Angeles, but bicycles are on the rise on city streets. To help L.A. become even more bike- and pedestrian-friendly, Occidental College is partnering with CicLAvia, an April 15 event that closes downtown L.A. to cars, trucks and other motorized vehicles.
From 10 a.m. to 3 p.m., bicyclists, runners, walkers, skateboarders and inline skaters can travel a 10-mile route that wends through the heart of Los Angeles. This temporary web of car-free streets includes parts of Boyle Heights, Little Tokyo and East Hollywood. Musicians and other performers will provide impromptu entertainment.
"It's about fostering a sense of connection. There's no car boxing you in and you'll see Angelenos of all races, all ages," said Joe Linton '85, a CicLAvia organizer. "Without all the cars on the streets, you'll notice things like the city's architecture. CicLAvia is an ideal way for students and others to really see Los Angeles."
The event reflects the College's longtime push for greener transportation, said Occidental President Jonathan Veitch, himself an avid cyclist. In a precursor to CicLAvia, the College helped organize Arroyofest, a 2003 event that closed down the historic Arroyo Seco Freeway to cars and opened them to 3,000 bicyclists and walkers. More recently, the College established a bikeshare program for Oxy students, faculty and staff, and supports local revitalization projects such as Eagle Rock's "Take Back the Boulevard."
"We encourage our students and fellow Angelenos to get on a bicycle," Veitch added. "We believe that a robust bicycle culture is a crucial element for a green city and essential for good health."
Occidental is the only college or university helping to sponsor CicLAvia, which counts the city of L.A. and nonprofit philanthropic groups among its sponsors. Jorge Gonzalez, dean of the College and vice president of academic affairs, will join Mayor Antonio Villaraigosa to kick off the event downtown. Mark Vallianatos, policy director of Oxy's Urban & Environmental Policy Institute, will provide Twitter updates (@MarkValli, #oxybikes, #CicLAvia) as the event unfolds.
"This is a great partnership," Vallianatos said. "We get to expose our students and faculty to CicLAvia, and learn how to transform the streets in our part of Los Angeles."
CicLAvia (a play on ciclovia, Spanish for "bike path") is the third such bicycle- and pedestrian-friendly event in the city since 2010. It's becoming increasingly popular: About 130,000 people participated in the last event, which was held on October 9. The concept began three decades ago in Bogota, Colombia, which closes some of its streets every Sunday for cyclists and pedestrians.