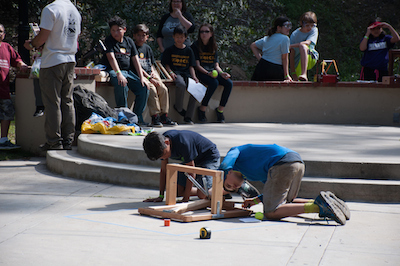 For the seventh straight year, Occidental College will host the Los Angeles Regional Science Olympiad, in which 3,000 grade 4-12 students from about 140 public and private schools will match their scientific wizardry for the chance to compete on a national level. This year's all-day event will take place on Saturday, March 4.
Students prepare for months for the tournament, which has about 23 events in three divisions: elementary, middle and high school. Grouped into 15-person teams, students compete in events that require not just knowledge, but critical thinking and problem-solving skills. Science Olympiad engages students in science and engineering practices that mirror how scientists and engineers think and work, emphasizing collaboration, creativity and communication.
About 150 Occidental and Caltech science and engineering professors and students and other local science educators will judge the competition, now in its 31st year. Events will be held across the Occidental campus, both in buildings such as Thorne Hall and Booth Hall as well as in the Quad and other outdoor locations. A number of the events are open to public viewing.
Students compete in the fields of biology, earth science, chemistry, physics, computers and technology.
Back this year is the popular Scrambler, in which high school students must build a vehicle powered by a gravitational falling mass with an egg strapped to the front. The Scrambler must get as close to a wall as possible without touching it and thus "scrambling" the egg. The exact distance the Scrambler must travel is not provided in advance.
The event that always draws the biggest crowd is the egg drop off of the library patio. Elementary-school students must build a device that will cradle an egg so that it will hit a target on the ground but not crack.
Other popular events include Paddle Boats (in the Gilman Fountain), the Pasta (& Meatball) Mobile, Bottle Rocket, Can Race, the Tennis Ball Catapult, Fossil Find, Write It/Do It and Don't Bug Me.
Several winning middle and high school teams go on to the state tournament in April. Winners of the state competition then battle other top teams May 19-20 at the 33th annual Science Olympiad National Tournament at Wright State University in Dayton, Ohio. Besides a trophy and bragging rights, winners also receive grants up to $2,000 for their school.
What began as a grassroots assembly of science teachers is now one of the premiere science competitions in the United States, providing rigorous, standards-based challenges to 7,000 teams in 50 states.