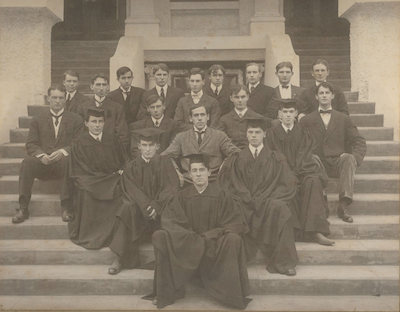 The 23rd Robinson Jeffers Association Annual Conference will be held at Jeffers' alma mater Occidental College this February 24-26. This year's theme will be "Robinson Jeffers and the Modern Metropolis: Los Angeles and Beyond."
Occidental is home to one of the foremost collections of books, manuscripts, correspondence and photographs relating to its illustrious alumnus Jeffers, class of 1905. Drawing on this and the community as resources, the weekend will feature exhibits, tours and sessions that offer a fresh look at Jeffers' life and times in Los Angeles and the contributions of alumni Ward Ritchie '28 and Lawrence Clark Powell '28 to Jeffers' legacy.
Sessions include "Blackness and Nature: Artists in Conversation" by poet Camille T. Dungy and invited artists; "The Terrible Arrogant Cities: The Origins of Robinson Jeffers' Anti-Urbanism" by Whitney Hoth of Fanshawe College, London, Ontario; "Robinson Jeffers and Italian Futurism: 'Nature' vs. 'City' as Contrasting Symbols of Cultural Decadence and Renewal" by Brett Colasacco of the University of Chicago; and "Influencing Jeffers: Charles Lummis and Arroyo Seco Arts Culture" by Jeremiah Axelrod, assistant professor of history and director of Occidental's Institute for the Study of Los Angeles, which will include a tour of Lummis' historic El Alisal house.
Actress and poet Lili Beta will read selected letters written by Jeffers' wife Una Jeffers, and Dungy will present the keynote address on "The View From Hawk Tower Today: A Contemporary Environmental Poet Reflects on What Robinson Jeffers Has Meant to Her."
The weekend will also feature the opening of the exhibition "Preserving Jeffers' Legacy" in the Clapp Library's Gallery and the opportunity for a guided tour of Occidental's Jeffers Collection.
The conference is open to RJA members and Occidental faculty, students and administrators. The $110 conference registration fee for members includes the Friday panel and evening reception and the Saturday and Sunday conference sessions. Non-members pay $145, which includes a one-year membership. A light lunch will be held at the Occidental campus on Saturday between sessions at a cost of $15 per person.
Space is limited; early registration is encouraged. Occidental faculty, students and administrators, contact specialcollections@oxy.edu to register for no cost. Otherwise, go here.