Submitted by kwall_admin on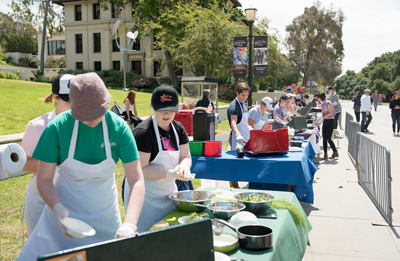 More than 500 food scholars will converge on Occidental College this summer for one of the discipline's largest international conferences and the chance to discuss everything from sustainable agricultural and fisheries practices to the cultural significance of Basque-American "picon punch."
The June 14-17 Agriculture, Food and Human Values Society (AFHVS)/Association for the Study of Food and Society (ASFS) annual meeting and conference "is a tremendous and unique opportunity to see, hear and visit with a vast array of leading international food studies scholars in one place," says Occidental associate professor of sociology John Lang, who organized the conference.
"Los Angeles is a dynamic, diverse, and multiethnic global city that serves as a gateway, destination and waypoint. Much of the food itself in California is produced in part by migrating workers and immigrants; indeed, the food scene in Los Angeles is the result of migrating food cultures. So, it made sense to host the conference in Los Angeles, and at Occidental," Lang says.
Sharon Friel, professor of health equity and director of the School of Regulation and Global Governance at Australian National University, will be the keynote speaker. She will lecture on "The Politics, Policies and Processes of 21st-Century Trade and Investment: Challenges for Food and Nutrition across the Pacific Rim." 
Author Betty Fussell (Eat, Live, Love, Die) will present a writing workshop on Wednesday, June 14, and chef, author, radio host and restaurateur Evan Kleiman will moderate a plenary panel on food-chain labor on Friday, June 16. Pulitzer Prize-winning food writer Jonathan Gold and journalist Laurie Ochoa will also hold a writing workshop on Wednesday, June 14, on food writing in the digital age. The Friday-night banquet will feature the bounty of California, particularly foods found along the John Muir Trail. 
Other scholars will present research on food environments, medicalization and nutrition; food media and representation; eco/natural foods and animal welfare; territory, local food production and resistance; agroecology, seed saving and sustainability; and teaching food history, among other subjects.
Attendees also will tackle the topics of college dining-hall food, the gourmandization of scrapple, peasant farms in Sardinia, female butchers, fraudulent honey, artisanal cheesemaking, wild-edibles gathering in Vermont, urban chicken ownership, Mexican beer, Kentucky bourbon and Indonesian fecal coffee. And, of course, food addiction ("No, You're Not Addicted to Carbohydrates; You Simply Prefer to Eat Sweets," Janet Chrzan, University of Pennsylvania).  
In addition to the lectures and panels on food-policy issues, the conference will feature excursions around such themes as food justice in Los Angeles and Mexican food in Boyle Heights (fried crickets are on the menu).
Attendees must be members of AFHVS or ASFS. View the complete schedule of events.