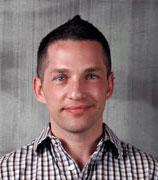 On Wednesday, February 22, Occidental filmmaker Broderick Fox will present an advance screening of his documentary, The Skin I'm In, at Occidental.
Six years in the making, the film draws directly from personal experience, pushing the boundaries of documentary form to get at some important contemporary questions about identity, diversity, social justice and global citizenship. 
"Making The Skin I'm In has proven to be an unflinching chapter in a series of autobiographical works I call 'embodied media,' in which I use not only subjectivity but also the physical body to destabilize assumptions about sex, gender and sexuality and to break the often-strangling silence of shame," said Fox, an associate professor of media arts and culture. "The story recounts my bodily history of addiction, pain, sex and cultural stigmatization and marks a commitment to a more integrated approach to living through the ritual of tattooing."
The screening is scheduled from 7 to 9 p.m. in Thorne Hall (the film runs 94 minutes long and will be followed by a Q&A with Fox). The event is free and open to the public. (Note: the film contains mature content equivalent to an MPAA-R rating.) The documentary's world premiere will be held at the Byron Bay International Film Festival in Australia on March 8.  This will be the beginning of what Fox hopes will be a very busy year on the international festival circuit.
The Skin I'm In has also been chosen for screening at the Park City Music Film Festival, an independent film festival celebrating the collaboration between directors and composers in a city known as a major independent film-scoring destination.
In September, Fox was one of 13 California artists selected to receive a 2011-2012 Artistic Innovation Grant from the Center for Cultural Innovation. He used this grant to underwrite composition of an original score for the film by composer Ronit Kirchman, who has since been named the 2012 Sundance Institute/Time Warner Music Fellow. Her fellowship award came with funds for live music recording that went toward a Park City scoring session for Fox's film in November, featuring a 30-piece orchestral ensemble. Kirchman recently performed a live remix set of the score for The Skin I'm In at the Sundance Film Festival.
 "I would love to make this advance screening an event that brings together all members of the Occidental community along with the alums and community partners I've worked with over my time at Oxy," Fox said.  Fox has been teaching at Oxy since 2004 and enjoys keeping in touch with many of his former students.
An undergraduate at Harvard, Fox received his M.F.A. and Ph.D. from USC's School of Cinematic Arts. Fox teaches courses in media production, documentary history and production, and themed theory-production seminars on the body in media including representations of gender, sexuality and body failure (illness, end-of-life decision-making and dying). His award-winning narrative, experimental and documentary works have screened internationally—theatrically, on television, at film festivals, and online. He works as a film and video editor, and his critical writing has appeared in various anthologies and journals, including Film Quarterly and Spectator. Fox's book, Documentary Media: History, Theory, Practice, is available through Pearson Press.