Submitted by kwall_admin on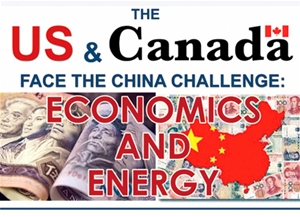 On April 28, Occidental College and the consulate general of Canada will bring together top journalists and energy and trade experts for a symposium on China's rise and the confluence of politics, global energy and diplomacy. The conference is free and open to the public.
The panelists and presenters include keynote speaker James Fallows, a national correspondent for The Atlantic magazine and author of the forthcoming book, China Airborne; Scott Farris, director of governmental relations for energy giant TransCanada; Mary Nichols, chairwoman of the California Air Resources Board; David Fransen, consul general of Canada; and Gordon Houlden, director of the University of Alberta's China Institute. Biographies of all of the presenters can be found here.
The symposium's first panel, "The China Challenge: Canada and U.S. Response," begins at 9 a.m. The second panel, "The Politics of Global Energy: U.S.-Canada-China Triangle," starts at 11 a.m. Both discussions will be held in Johnson Hall, Room 200, on the College campus. Go here for the complete program.
The symposium is timely given recent events that highlight the interplay of geopolitics and energy and China's ascendancy on the world stage, said symposium organizer Derek Shearer, former United States ambassador to Finland and Occidental's Chevalier Professor of Diplomacy and World Affairs.
He pointed, for example, to the ongoing controversy over the proposed 1,400-mile Keystone XL Pipeline, which would transport crude oil from Canada to refineries throughout the United States. Shearer also mentioned the Trans-Pacific Partnership Agreement, a contract between the United States and eight countries in Southeast Asia, Australasia and South America to increase trade and economic growth, and the role China may play.
"The emergence of China again on the world stage is of utmost importance to the future of the global economy and the global political system," he said. "We hope that by sponsoring a nuanced discussion of the challenge China poses and how the U.S. and Canada are responding, Occidental can contribute to a clearer understanding of the choices the West faces in responding to China's rise."
The symposium is the latest instance of the College's outreach to locally based diplomatic corps. In the past, the consuls general of Hungary, Australia, Brazil, and France, among others, have spoken to the Oxy community.
After the symposium panels end at 12:30 p.m., lunch for speakers and participants will be held on the A.G. Coons Administration Center patio. Directions to the College can be found here. For more information, contact Shearer at dshearer@oxy.edu or Nadia Scipio del Campo at the Canadian consulate at Nadia.ScipiodelCampo@international.gc.ca