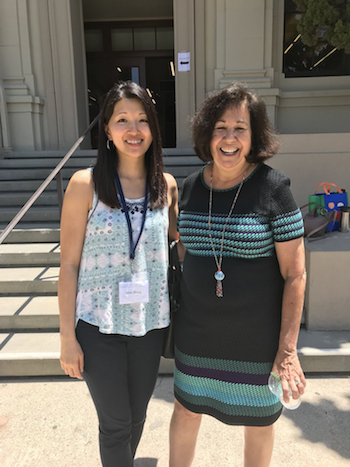 Occidental College is hosting almost three dozen public school teachers from across California this week for an intensive one-week Gilder-Lehrman Institute of American History workshop titled "The History of American Immigration Through a California Lens." 
Jane Hong, Occidental assistant professor of history, is the lead instructor for the June 24-29 workshop, which provides an overview of American immigration history by focusing on the California experience through lectures, guest speakers, field trips, and a series of readings. Master teacher Lindsey Charron of Newport Mesa Unified School District is working with teachers on lesson planning, how to incorporate this content into their curricula, and how to have conversations about difficult topics.
"The topic is timely, and the teachers are a joy to work with," Hong said. "They are genuinely committed to learning as much as they can and taking it back to their classrooms to empower their students. This workshop has been a welcome counterpoint to the contentious political debates we see in the news today. And I am so thrilled to have Gilder-Lehrman come to Oxy for the first time!"
The workshop is one of a series of programs offered at campuses across the country each year by the Gilder-Lehrman Institute, the leading American history nonprofit organization dedicated to K–12 education. The New York-based Institute seeks to promote the knowledge and understanding of American history through educational programs and resources. This is the first time the Institute has offered a workshop focused on the history of one state.
It is funded by the San Francisco-based Stuart Foundation, which is dedicated to improving life outcomes for all young people in California and Washington through education.
Gilder-Lehrman's national teacher workshops are being held this summer at Princeton, Yale, Columbia, Stanford, and the University of Virginia, among other locations.