Submitted by kwall_admin on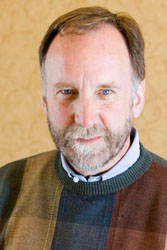 Robert Kieft, Occidental College's librarian, has been chosen to receive the Reference and User Services Assn.'s 2012 Isadore Gilbert Mudge Award—the highest honor for contributions to the field of reference librarianship.
The award, sponsored by Gale Cengage Learning, is presented annually to an individual who has made a distinguished contribution to reference librarianship. In choosing Kieft, the committee unanimously honored his nearly decade-long investment in reformatting the Guide to Reference from a print volume to an ongoing, dynamic and interactive database with nearly 16,000 entries—an effort that included contributions from scores of people who became known as "Friends of Bob."
"Kieft demonstrated his leadership skills and commitment by coordinating this effort to create an innovative resource that established a new kind of community for librarians, at a time when reference was transitioning to a more digital experience," the American Library Assn. said in a statement.
"Bob's contributions to the Guide to Reference have changed the face of reference practice and scholarship," said Julia Gelfand, award committee chair.
The Mudge Award, a citation and $5,000 cash prize will be presented to Kieft at the RUSA Awards reception June 24 at the ALA annual conference in Anaheim.
Kieft holds an MLIS from UC Berkeley, a PhD in drama from Stanford and an AB in English from Hope College. In addition to Occidental, he has directed two college libraries, served on and chaired numerous committees and professional boards, provided consultancies to institutions, and taught and mentored a generation of librarians.
RUSA, a division of the ALA, represents librarians and library staff in the fields of reference, specialized reference, collection development, readers' advisory and resource sharing. For more information, visit RUSA's website.