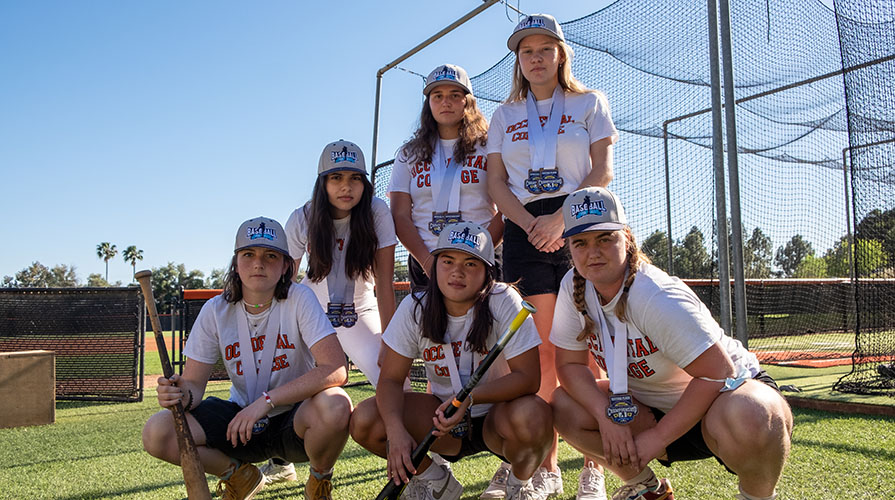 After only a month of practices Oxy's Womxn's Baseball team earned a second place finish and sportsmanship award at their first Baseball for All Women's College Club Championships. 
This article was written for and originally published in The Occidental, the independent student-run newspaper at Occidental College. Read this article and more coverage online at theoccidentalnews.com.
By Charlie Finnerty
Top image: Robyn Rubin-Valverde (first year), Ayva Sloo (first year), Emily Wills (first year), Ellie McKinney (junior), Cleo Welch (first year) and Meghan Dayton (junior) of the Womxn's Baseball team.
In the early morning of March 20, members of Oxy Womxn's Baseball piled into Ellie McKinney's (junior) 2009 Honda Civic to make their way to MLB Youth Academy in Compton. Less than a month after first practices, the team headed to the first Baseball for All Women's College Club Championships, where they competed against similarly new teams from Montclair State University and the University of Washington, taking home second place at the end of the weekend.
Pitcher and catcher Carly Mitchell (senior), the founder and de facto coach of the team, said she started playing baseball in the same league as her older brother when she was 4 years old but switched to softball when she hit puberty.
"I don't remember ever being asked if I wanted to go into softball," Mitchell said. "It felt like what my parents thought was the natural next step. I guess I didn't even realize until I got into high school that softball was great, but I always preferred baseball."
First base player Robyn Rubin-Valverde (first year), who played softball through high school, said she joined within five minutes of seeing Mitchell's email about the team, inspired by her grandfather's love for the sport.
"My grandpa loves baseball. He lives in Nicaragua, out in the rural area, and he's a big Cardinals fan. When he heard I was doing softball, he was extremely excited but he was like, 'Why not baseball?' and I was like, 'Well, there's no opportunity,'" Rubin-Valverde said. "Actually getting out here and playing my grandpa's favorite sport, it felt really connected given that he's three or four thousand miles away. I never get to see him, but I'm doing something he loves."
Baseball For All was founded in 2010 by Justine Siegal, the first woman to coach for an MLB organization. According to their website, only 1 percent of girls who play youth baseball continue the sport in high school.
"I got tired of waiting for opportunities so I decided to build them," Siegal said. "I think that if you love baseball, then that's the sport you should be able to play and female students deserve the same opportunities that male students already have."
While this year's tournament included only three teams, Siegal said she plans to rapidly expand the collegiate Baseball For All league and expects 8–12 teams to compete next year.
"Eventually our goal is to have NCAA status and, in order for that to happen, we have to show that leagues are viable," Siegal said. "I can't suggest when we'll have NCAA status, but I can tell you that we'll have 50 teams in less than five years."
Katelyn Mulcahy, a freelance sports photographer based in LA who covered the Baseball For All tournament for the MLB, said the photos she captured of Occidental's team are some of her favorite photos of her career.
"The camera really loved them because they were so happy. They were genuinely happy and that's why I think they were some of my favorite photos I've made in a very long time," Mulcahy said. "I think they understood just as much as we did that what they were doing was huge."
Mulcahy also said that Maybelle Blair, a former All-American Girls Professional Baseball League player who played in the 1940s and 50s, attended the tournament as a fan.
"She is a legendary women's trailblazer in baseball," Mulcahy said. "I think she was there to watch this new generation bring back what she had once been a part of. She stayed there for the whole game, she was just loving it."
Mitchell said she hopes that Occidental's team can serve as an example and inspiration for young girls interested in playing baseball.
"For me it wasn't so much about winning," Mitchell said. "It was about being a representation to other people. Even if we weren't doing well, we were still out there trying and I knew that was going to be a precedent over anything else. When other girls are looking into colleges and they come across these photos, they'll be able to say, 'Oh I can do this in college too, it's an option to me,' because it wasn't an option before."
Mitchell said training for the tournament consisted of only a few weeks of irregular practices at Yosemite Park, interrupted by spring break. Without official club sport recognition from the college, the team does not have access to Occidental's baseball fields or transportation resources, relying on players' cars to get to the tournament and paying out of pocket for time at batting cages, according to outfielder Meghan Dayton* (junior). They barely had enough players to fill out a full roster, so if one person was unable to make it to the tournament, the team would not be able to play, according to second base player Cleo Welch (first year).
Mulcahy said that none of those logistical hurdles were visible when Occidental's team arrived at the tournament.
"I wouldn't have been able to guess that it was as stressful a situation as it probably was. I know that none of them had breaks. Every single time that they were out on the field it wasn't like they had any subs whatsoever," Mulcahy said. "By the end of day two, I was like 'Oh yeah, that's Carly, that's Siena, that's Meghan.' It was cool because they all just had such unique personalities and there weren't a ton of them."
Rubin-Valverde said that behind the lightheartedness of the team culture, every player takes their role seriously as leaders in breaking down the barriers of a male-dominated sport.
"It feels like a big responsibility. Yeah, we're playful, we're cool, we're having fun, but we're also very serious out there on that field," Rubin-Valverde said. "We're trying to show that women can take this sport equally as serious and play equally as well as men can."
Dayton said Occidental's advance to the championship game came as a surprise to the team.
"We won the second game, which we were completely shocked by," Dayton said. "We all thought we were gonna get crushed in every game. We didn't even know if we would have enough players until everyone showed up."
Welch said members of the team had not imagined they would make it to the championship game March 21 and had to email their professors about missing class at the last minute.
"It all moved so quickly. How do you go from playing zero hours of baseball, to nine hours a week, to then two 12-hour days of baseball, then no practices the next week?" Welch said. "That car ride back [from the second game], I heard one girl say, 'Oh, I guess I can't go to class tomorrow."
In addition to winning second place, Occidental was also selected for the tournament's sportsmanship award, which Dayton said she felt was well deserved.
"We were constantly cracking jokes like, 'What are we doing here? How did we end up here?'" Dayton said. "I don't really feel like much of a baseball player, so to say that we're technically second in the nation feels a little silly. But for sportsmanship, we did cheer everyone on the other teams on, we were having so much fun cracking jokes, the cameras loved us. That one we felt like we truly won."
Mitchell said she was especially proud of the team's sportsmanship award.
"I felt like a proud parent," Mitchell said. "Even though we were making history and this was the first time this had ever been done, we didn't lose that child-like wonder when it comes to playing sports. That's the biggest thing for me. Connecting with this sport is connecting back to my childhood self who just went out there and had fun, and I feel like that's exactly what we did. Even in the moments where it didn't look like we had it together very much, we still had a smile and were supporting one another."