Submitted by kwall_admin on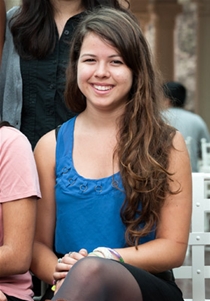 Occidental College junior Fay Walker '13 has been awarded the highly competitive Truman Scholarship.
The diplomacy and world affairs major from Croton-on-Hudson, N.Y., is one of 54 Truman Scholars from 48 colleges and universities nationwide chosen for their smarts, leadership potential, and desire to work in government or public service. The scholarship, given by the Washington-based Harry S. Truman Scholarship Foundation, provides up to $30,000 for graduate study.
The scholars were picked from among 587 candidates nominated by 292 institutions. Walker-Oxy's 13th Truman scholar--will attend Columbia University for a master's degree in international affairs with a specialization in urban planning and gender policy. She then plans to move to Bangladesh to help address gender and environmental issues that affect the poor.
"I'm really still in shock about winning the scholarship," Walker said. "This is an amazing opportunity. I'm looking forward to meeting other scholars, and creating ties with other people interested in similar careers or already involved in my field of interest."
The Truman scholarship is Walker's latest academic award. Past honors include a Richter scholarship to research female political leaders in Argentina, and a Young Fund Grant to conduct independent research on Muslim women in Thailand.
The Oxy student has already proven her leadership ability. She co-founded the Food Justice House, a College residence where students live in an environmentally sustainable way. Walker has also been involved with the College's Youth Coalition for Community Action, which brings high school and college students together to grow community gardens and work on food-justice issues. As a high school student at Bishkek International School in Kyrgyzstan, Walker began the country's first recycling program, even though she wasn't fluent in the native language.
"Fay exemplifies the Truman Scholarship dedication to public service," said Occidental President Jonathan Veitch. "She has engaged in unconventional leadership experiences in different countries and developed a passion for gender equity and environmental issues on a global scale. Her life trajectory so far reveals a long-term commitment to environmental justice, particularly as it disproportionally affects the poor."
In addition to the $30,000 the Truman Scholarship provides for graduate school, scholars receive leadership training, career and graduate school counseling, special internship opportunities in the federal government, and priority admission and supplemental financial aid at some graduate institutions.
Congress established the Truman Scholarship Foundation in 1975 as a federal memorial to the country's 33rd president. The foundation has elected 2,844 Truman scholars since the awards were first given out in 1977.