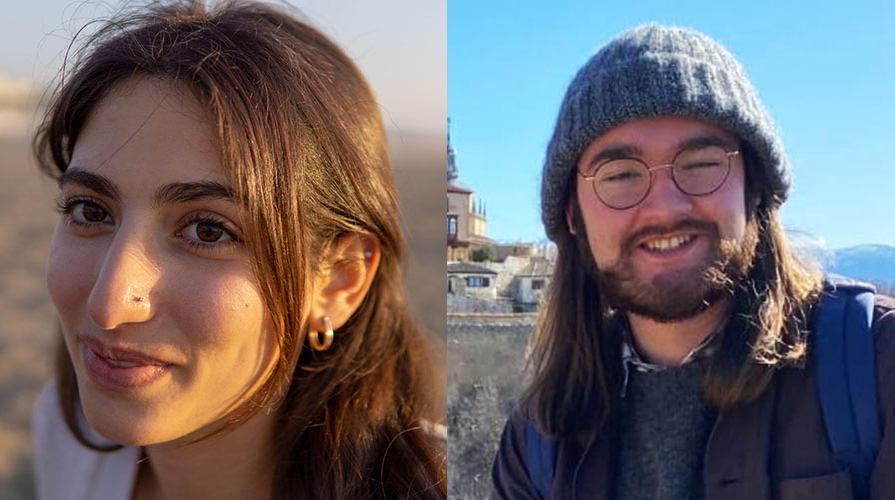 Continuing a 34-year Occidental College tradition, Odelia Putterman '23 and Jack Thomas-Colwell '23 have been named 2022 Goldwater Scholars. Putterman and Thomas-Colwell are the 44th and 45th Oxy students to win the country's most prestigious undergraduate scholarship in the sciences since the award was established in 1989.
Putterman and Thomas-Colwell are among the 417 recipients of this year's Goldwater scholarships, presented to sophomores and juniors who plan to pursue careers in mathematics, the natural sciences or engineering. The award covers up to $7,500 annually for undergraduate tuition, fees, books and room and board.
Putterman, a physics and computer science double major from San Francisco and transfer from Boston University, is interested in physics and astronomy research and has already published in the field. She plans to obtain a Ph.D. in computational astrophysics and hopes to develop algorithms for large-scale cosmology problems and eventually teach at the university level. Her mentor is Boston University Assistant Professor of Astronomy J.J. Hermes. 
Thomas-Colwell, a chemistry and computer science major from Oak Park, Ill., is passionate about combining these two pursuits and seeks to make discoveries in computational chemistry. His mentors are Fletcher Jones Foundation Professor of Chemistry Professor Michael Hill and Northwestern University Assistant Professor of Chemistry Bryan Hunter. Thomas-Colwell was also recently named one of Oxy's 2022-23 Science Scholars, which comes with a $15,000 grant from the Fletcher Jones Foundation for research with Hill in electromechanical reshaping of the cornea.