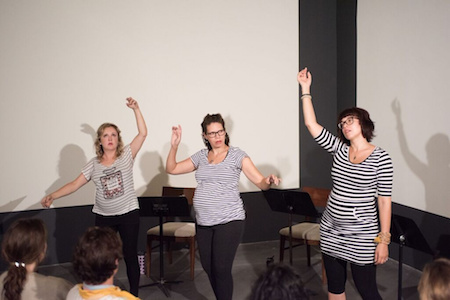 Deena Selenow, director of Oxy Arts, will be in residence at Los Angeles' Skirball Cultural Center January 30-February 4, directing The Bumps as part of The Skirball's inaugural Performance Lab Series. Featuring a cast of three pregnant actors, The Bumps explores our cultural understanding of pregnancy and the universality of the act of waiting for the unknown.
The product of a two-year collaboration between Selenow and playwright Rachel Kauder Nalebuff – creator of the New York Times bestseller My Little Red Book -- the 90-minute play follows the story of three expectant mothers (played by pregnant -- yes, actually pregnant -- performers) who are waiting for their lives to dramatically change, and then picks up one generation later to follow their now-pregnant daughters and their starkly different dreams.
The innovative production charts how our cultural understanding of pregnancy has evolved over the years, and examines what we inherit from our parents. In a bigger sense, The Bumps serves as a meditation on the great theatrical questions that pregnancy illuminates so visibly: how do we make meaning as we wait? And what does the way we wait say about who we are?
"The best way to describe it is a play built around our actual lives and bodies, as opposed to adhering to traditional production structures and processes," Selenow says. "It's a larger exploration on how to create a feminist production process and letting go of pre-existing theater conventions."
Previous workshops and staged readings of the play were held at the Women's Center for Creative Work in January 2016, Moskowitz Bayse Gallery in March 2016, and as part of The Hammer Museum's IRL: Studio series in December 2016 and January 2017. The Skirball Cultural Center presentations are made possible through the National Performance Network (NPN)'s Residency program.
There will be two performances of The Bumps at the Skirball Center Performance Lab: Friday, February 3 at 8 p.m. and Saturday, February 4 at 2 p.m. You can find more information and purchase tickets here.