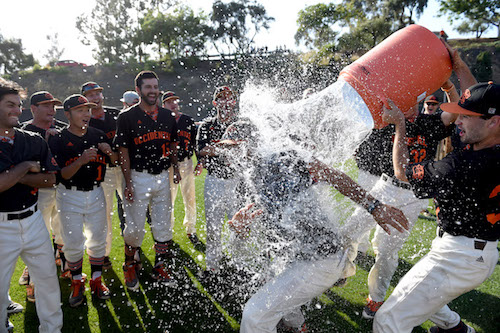 Devon DeRaad '17 broke his own single-season home run record with three bombs as the No. 7 Occidental baseball team clinched its first SCIAC Championship since 1982 with an 11-1 win over Caltech at Anderson Field on Sunday.
DeRaad hit homers on the first two pitches he saw and added a third home run in the fourth, going 3-for-3 with 6 RBIs and two intentional walks on the game, leading Oxy to its 28th SCIAC Championship.
"We've been working hard since September in the weight room, since January on the field. All these guys deserve it," said DeRaad, who leads the conference in home runs, RBIs, hitting, on-base percentage and slugging percentage. "It's the coolest thing I've done as a college athlete."
DeRaad also had homers against Pomona-Pitzer on Saturday and Whittier in the first game on Sunday, giving him four on the day, five on the weekend and 15 on the season
The Tigers secure home field advantage for the four-team, double-elimination SCIAC Postseason Tournament on May 6-8 that determines the conference's automatic bid to the NCAA Division III Postseason Tournament.
"It's been a long time coming. 1982 is the last time it's been done here," said Oxy head coach Luke Wetmore, who wins his first SCIAC Championship in his fifth season. "We've been talking about this since Day 1 when they showed up. We thought we had a good team, I started dreaming about it and they bought in. It's amazing what you can do when your culture is right."
Oxy finishes the regular season 30-8 and 22-6 in SCIAC play - one of the best records in the program's storied history dating back to 1893. Oxy is now two wins shy of the program's single-season win record of 32.
Senior Wilson Terrall got the game-ending hit in the eighth, knocking a single to left that scored Riley James '17 to put Oxy over the 10-run rule.
Will Martel, Oxy's first-year lefty, earned the victory, improving to 9-2 on the season in four innings of scoreless work.
Senior first baseman Brady Fuller, Oxy's hero in its first game of the day with a walk-off RBI-single in the ninth in a do-or-die game against the Poets, went 3-for-4 with a pair of runs scored.
First-year outfielders Eamon McNeil and Jake Palumbo each homered for Oxy and cathcher Derek Sun '18, pitcher Trevor Lecka '16 and outfielder Jamie Cooper '17 all doubled.

Oxy needs Redlands to beat Cal Lutheran in CLU's final regular season game on Monday in order to win the championship outright.