Submitted by kwall_admin on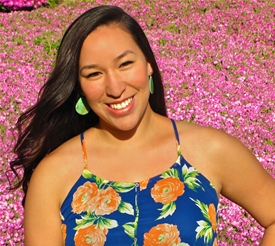 This spring, Occidental College students elected their first student body president of Native American descent--Margeau Valteau '13, an urban and environmental policy major from Window Rock, Ariz.
Previously vice president for academic affairs for Associated Students of Occidental College, Valteau said her main goal as president is to increase student participation in campus issues and decisions. "I want to make sure everyone is informed," she said. "I plan to do more outreach and talk to more people, and our new senators will go to more club events and be more active in the community."
Valteau's presidency reflects the historical diversity in Oxy's ASOC leadership: Eileen Baughman '45 was the first female student body president, and Baltimore Scott '62 was the College's first black ASOC president.
Window Rock is the capital of the Navajo Nation, the largest Native American reservation in the United States. Stretching 27,000 square miles through Arizona, New Mexico, and Utah, the Navajo Nation's ceremonial name means "Earth's center."
Growing up amid the Southwest's stark beauty, Valteau has always been keenly aware of the natural world. "I was raised to respect the environment," she said. "There's a saying in my culture: 'Walk in beauty.' That's the lifestyle we've lived."
The saying, she added, means to be in harmony with everything in nature--animals, people and plants--and also to be in mental and emotional balance. While the Navajo Nation is home to some of the world's greatest natural wonders, it also has high rates of poverty. So it's no surprise that Valteau is interested in social and environmental justice issues.
In December 2010, Valteau was one of five Occidental students who took part in a live public White House Web forum on the environment with officials from the Environmental Protection Agency and the Council on Environmental Quality.
"From the hazardous effects of uranium mines to the many homes without electricity or running water, the Navajo people do not have access to basic human needs," she told Obama administration officials. "Not only are these problems on the reservation ... but in under-represented communities [across] the United States."
Today, Valteau is concerned about a bill co-sponsored by Sen. John McCain (R.-Ariz.) that would help bring drinking water to the Navajo and Hopi reservations. But the proposal comes at a price.
In exchange, the tribes must waive their claims to the Little Colorado River, a major water resource. The bill, called the Navajo-Hopi Little Colorado River Water Rights Settlement, is now under consideration by the Senate's Committee on Indian Affairs.
"Our water is everything to us, and this bill would take away our water rights from the reservation," she said. "It's very unfair."
The daughter of a retired high school teacher and business administrator, Valteau plans to work in Washington, D.C., on environmental issues after graduation. She already has a head start: For the second summer in a row, she will intern with the U.S. Forest Service. Last summer, she helped write speeches and briefings for the chief of the Forest Service on issues such as the Farm Bill and cooperative forestry.
She says that her Occidental education will serve her well. "I came to Oxy because I wanted something different. I wanted a challenge."